by Linda K. Wertheimer
In June, we took our 7-year-old son to a church service for the first time to attend an interfaith gathering in memory of the nine people killed during a prayer meeting at their Charleston, SC, church.
We listened to a monsignor, pastors, an imam, and the associate rabbi of our temple offer words of solace and prayer. The chorus of the Charles Street A.M.E. Church in Boston sang, and we sometimes joined in, reading the unfamiliar words on paper programs. As Jews, we didn't know many Christian prayers. We were among people of many races and faiths there to express our sorrow at racist hate.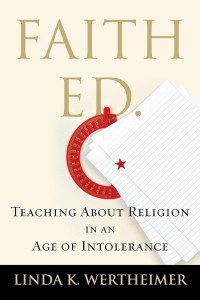 As we walked back to our car after the service, my son Simon blurted out, "Mom, I don't think all of those people inside that temple were Jewish."
I told him he was correct, and that in fact, we had just been in a church, not a temple, and the people who regularly attend there are Christian. I was a bit chagrined. Here I was, the author of a book that examined public schools' efforts to teach about the world's religions, and I hadn't yet taught my child basic differences between houses of worship. It wasn't that I was avoiding the topic. I just assumed he was absorbing the differences by exposure. He went to pre-school, after all, on the third floor of a Baptist church. I, though, never actually said that to him. I probably erred, too, by not explaining anything about the nativity scene we walked by each December. In my son's early years, I focused more on teaching him about his own faith.
Parents and teachers alike often tiptoe around the subject of religion with children. Teachers fear stepping over the line separating church and state and appearing as if they're preaching rather than teaching about religion. Parents may not feel that knowledgeable about religion or think they should wait till their offspring is older to talk about faith, let alone someone else's beliefs. Can young children, after all, really grasp anything about religion? Yes, they can, and more than we think.
Legally, teachers can and many do teach about religion. The ones I observed knew to use caveats like like, "Many Christians believe," "Many Muslims believe," instead of saying, "You should believe" x, y, and z. Many teachers are also quick to point out that not everyone subscribes to a religion and teach the definition of atheist and agnostic. Parents can try similar approaches with their children.
Here are five ways to teach simple lessons about religion to children:
Mimicking what first-grade teachers do in a nationally used curriculum known as Core Knowledge, teach children the names of different houses of worship for religion and the common symbols, such as a Star of David — six-pointed star — for Judaism, a cross for Christianity, and a crescent and star for Islam. Show the symbols with photos or point them out when you drive by houses of worship.
Use books as a teaching tool. Many school and town libraries put out books at the time of different holidays, and these books tend to be more informational than preachy. Borrow them. One of my favorites about Hanukkah is Chanukkah Lights Everywhere by Michael J. Rosen, who makes the story one about Christmas, too, when the family walks around the neighborhood and admires lights put out for different holidays. Learn about Ramadan, for example, from Under the Ramadan Moon by Sylvia Whitman.
Educate yourself about the world's religions. Some good primers, for adults, are Huston Smith's The World's Religions, and God Is Not One, by Stephen Prothero. If your child is middle school-aged or older, check out The Usborne Encyclopedia of World Religions, the book Modesto, California, high schools use for a required world religions course.
Take children into different houses of worship when you travel or when a friend of a different faith visits. I went to mass with a Catholic friend during childhood and remember heading off an awkward moment by simply asking what I should do when it was time to go up for communion. Non-Catholics stay seated. On a family trip to Israel last year, we took Simon into the Church of the Holy Sepulchre and toured the grounds of the Temple Mount with a Muslim guide.
If you are of a particular religion, introduce your holidays to people of different faiths and welcome invitations to others' homes to experience their traditions. Children don't become another religion if they help light a menorah and play dreidel in a Jewish family's home or string popcorn on a Christmas tree in a Christian home.
My family's visit to the church this summer was an opportunity missed for me as a parent. A first-grade teacher I observed in Wichita urged students to scrutinize a slide of three houses of worship and notice the differences. I could have directed my son's gaze to the top of the church and pointed out the cross on top. The cross is a symbol of Christianity. I could have asked, "Does our temple have a cross on top?" He would have known the answer. Teaching my son about different religions is a work in progress. Our home library has numerous books on Judaism, courtesy of the PJ Library program, which sends a book a month to Jewish families. But there are no story books on other religions. It's time to fill that gap.
Linda K. Wertheimer is the author of Faith Ed: Teaching About Religion In An Age of Intolerance (Beacon Press), which comes out tomorrow. Follow Linda on Twitter @lindakwert. Her website is: http://faithedbook.com.