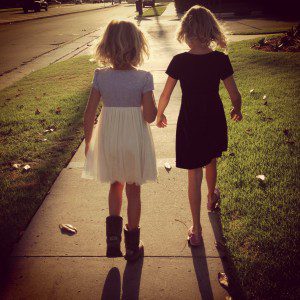 A Pittsburgh dad and longtime Natural Wonderers reader submitted the following transcript for inclusion in a little series I like to call "God, That's Funny!" It's a recent interaction between his 9-year-old daughter (we'll call her by her first initial, "E") and an 8-year-old neighbor girl ("T").
Somehow, the topic of conversation turned to religion; E is being raised a freethinker, T a Catholic. Here's how it went. Kudos to Dad for writing it all down. And kudos to little E for being generally freaking awesome.
T: So you don't believe in God?
E: No.
T: But he made the whole world! Everything!
E: …
T: You don't believe that? That's sad.
E: No, I don't believe that. It's not sad. I don't think God exists, so he couldn't have made everything.
T: I think that's sad.
E: Different people believe different things, [T]. And that's OK. It's OK for people to believe different things.
T: Are you Catholic?
E: I don't know what that is.
T: Are you Christian? I'm Catholic and Christian. Are you Christian?
E: We don't go to church…
T: You've never been to church?!?
E: We go sometimes with family, like at Easter when we're with my grandparents.
T: Well, I'm Catholic and Christian. So are you Catholic and just not Christian?
E: [T]…
T: I was baptized. Were you baptized?
E: No.
T: Do you think you ever will? Will you get baptized someday?
E: I don't know, [T]. But, if I do, it will be my own decision.
Dad's comment? "I was so freaking proud. I wish [E] had had a mic so she could've dropped it and walked off stage."
Who can blame him?