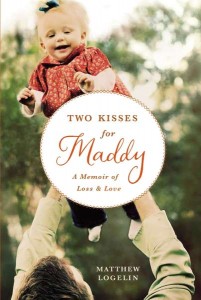 Speaking of death — and I know you're probably about ready for me to take a break from the subject, but hang with me just a bit longer — who's heard of Matt Logelin?
For those who haven't, Matt is a blogger and author (www.mattlogelin.com) whose wife, Liz, died the day after delivering the couple's first child in March 2008. The child, a baby girl named Madeline, had been born seven weeks premature and was being cared for in the ICU while Liz remained on bed rest for 24 hours. Given the go-ahead to finally hold Madeline, Liz excitedly rose from her hospital bed, sat down in a wheelchair, complained of being light-headed, and died of a pulmonary embolism.
The story is tragic (um, obviously) but Matt's blog — which he began before his wife's death — is fascinating and somehow manages to be surprisingly uplifting. Matt wrote a book called Two Kisses for Maddy: A Memoir of Loss & Love (published April 2011), in which he recounts the strange and surreal collision of birth and death in a 27-hour period.
I interviewed Matt last summer after I learned he, too, was a nonreligious parent and that he sometimes has to deal with religious readers who believe they know better how to console Madeline than he does.
Last May, in fact, Matt was forced to confront one such reader at a book signing in Maryland. The situation, which he recounted in a blog post, began when the reader couldn't seem to fathom that Madeline would never be told her mother was still "with us" — residing somewhere in heaven, waiting to hold her little girl once again. The reader waited in line to have his book signed and then, when he reached the signing table, asked Madeline directly if she wanted to know "where her mother really is."
Appalling, right?
Lucky for Matt, his daughter — then 3 — was in a bad mood that afternoon, and refused to listen to the guy.
Lucky for the reader, Matt was in a good mood and didn't deck him.
Actually, Matt is a genuinely kind person who understands that even though this reader was acting completely inappropriately, the guy's heart was probably in the right place.
"He's really concerned about my soul," Matt said. "That's a really nice thing."
"Sir," he explained to the man. "She's 3 years old. She's not willing to speak to you. If you want to try again in 10 years, go ahead."
Then he told the man to go away "in the nicest way possible."
He even signed his book.
Matt, who described himself as lapsed Catholic, said he lost his faith in God somewhere around age 7, after hearing that a friend of his, a Hindu boy, was going to go to hell because he didn't believe in Jesus. The Hindu boy's family was really nice, Matt said, and he remembers thinking: "That's not okay. That's really awful."
Since his wife's death, he said, others in his family have turned away from religion, as well, so there's no conflict whatsoever within his own family.
It's hard to imagine anything tougher than caring for a newborn while mourning a loss like that. It's hard to imagine how painful it must be to look at his daughter in the eyes and tell her that she is never, ever going to meet her mother. Not now. Not ever.
But that's exactly what Matt does.
From the time Madeline was days old, in fact, Matt began talking to her about Liz's death — using the same words he would use with an adult. He steered clear of euphemisms. He didn't try to offer explanations where none existed. He talked about Liz in the past tense.
"Your mom died," he told her during those first weeks, and again dozens of times after that. "That means she's not here. She gave birth to you. She loved you, and she was really excited to hold you."
He said it felt good to know that this narrative, this message, would be consistent as she got older. There would be no confusion, no surprises.
Today, Maddie is doing great. A little, toe-headed beauty, she's heathy, well-adjusted, spirited, and funny. And Matt, too, has managed to move forward. He has a serious girlfriend. He continues to write. He is a happy, devoted father.
But, of course, it's clear from blog posts like this one that he'll never break completely free of the sadness of his loss.
Hell, even if he were inclined to forget Liz — which is highly unlikely — it would never happen. One need only to look at his daughter to understand why.
Maddie, as fate would have it, is a spitting image of her mother.