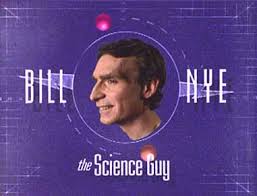 Now that you can finally stream the first season of "Bill Nye the Science Guy" on Netflix (THANK YOU, BABY JESUS!), I thought it would be a great time to pull together a list of some great, kid-friendly science shows streamable on the murderous device that killed my ability to spend my Friday nights, aimless and frustrated, wandering the isles of my local Blockbuster only to get home, be too exhausted to actually watch the damn movie and then incur endless fines for not returning the video on time.
Damn you Thank you, Netflix.
Anyhow, I've separated the science shows into six categories: Straight Kids' Shows, David Attenborough-Narrated Nature Shows, Non-David Attenborough-Narrated Nature Shows, Space Stuff, Technology and Brain Science.
Got something to add to the list? Mention it in the comments, and I'll throw it in.
Straight Kids' Shows
Billy Nye the Science Guy (1993): "Host Bill Nye gets kids fired up about science, sharing his enthusiasm for all its branches, from astronomy to complex ideas about genetics."
Magic School Bus (1994): "Join Ms. Frizzle as the Magic School Bus travels to outer space, under the sea, through an anthill — and even inside the human body!"
Monster Math Squad (2012): "Max, Lily and Goo love to put their minds together and use their math skills to overcome any obstacle, even ones with two left feet or ten thumbs."
SciGirls (2010): "Follow a group of tween girls as they tackle science and engineering projects such as creating a turtle habitat or designing an electronic dress."
Sid the Science Kid (2008): "Armed with a healthy sense of humor and the help of his teacher, friends and family, curious kid Sid tackles questions youngsters have about science."
Space Racers (2014): "Spaceships Eagle, Robyn, Hawk and their pals at the Stardust Space Academy rocket through the galaxy, teaching kids about the wonders of science."
David Attenborough-Narrated Nature Shows
The Blue Planet: A Natural History of The Ocean (2001): "David Attenborough narrates this definitive exploration of the marine world, from the familiar to the unknown, revealing the sea and its communities."
David Attenborough: Wildlife Specials (1997): "Naturalist David Attenborough travels to stunning locations and gets up-close footage of polar bears, leopards and other amazing creatures."
Life (2009): "Discover the glorious variety of life on Earth and the spectacular and extraordinary tactics animals and plants have developed to stay alive."
Life: On Location (2009): "Members of the BBC's 'Life' production crew go behind the scenes to explain just what it took to capture key sequences of the program."
The Life of Birds (1998): "Researchers traverse the globe, exploring 42 countries and examining more than 300 species of birds in David Attenborough's lively documentary series."
The Life of Mammals (2002): "David Attenborough hosts this in-depth examination of mammals, from the smallest shrew to the biggest whales and the most advanced primates."
Planet Earth (2007): "This landmark series transports nature lovers from the Himalayan Mountains to the depths of the ocean and everywhere in between."
Space Stuff
Cosmos: A Space Odyssey (2014): "Astrophysicist Neil deGrasse Tyson presents new revelations about time and space in this reboot of the original 'Cosmos' documentary series."
Hawking (2013): "Renowned physicist Stephen Hawking narrates his own story via the voice-synthesis device that he has used since ALS silenced his speech."
The Inexplicable Universe (2013): "Host Neil deGrasse Tyson reveals how cutting-edge technology enables modern scientists to explore the wonders of the universe as never before."
Life in our Universe (2014): "Award-winning astrophysicist Dr. Laird Close guides this fascinating investigation of the cosmos and mankind's search for alien life forms."
The Ultimate Mars Challenge (2012): "With access to the scientists and engineers responsible for the Curiosity Rover's on-the-ground experiments, NOVA captures its landing on Mars."
The Universe: Collection (2007): "Using CGI graphics, data and interviews with scientists, this series explores questions and topics about our solar system and beyond."
Technology
Making Stuff 2 (2013): "Technology expert David Pogue meets with scientists and engineers on the cutting edge of technology, making things colder, safer, faster and wilder."
Brain Science
Brain Games (2011): "This interactive series uses games, illusions and experiments to illustrate how our brains manufacture our reality and often play tricks on us."