My dearest friend, Pernilla, lost her beloved dad this week — he died suddenly and unexpectedly — and it's making me think a lot about the death.
My friend is Swedish, and few people over in that part of the world are theists. Pernilla does not believe in God or in heaven. Her father didn't, either. So when they face death, they face the finality of it head-on.
Her dad died; he is gone. That's it.
It's very hard for me in times like this to not slip into a kind of depression; it's all so fucking sad. Believers, I'm sure, would counsel me to find Jesus or, at the very least, God. Either one, they would say, bears the promise of future peace, of a reunion of loved ones, of some higher purpose to all of this.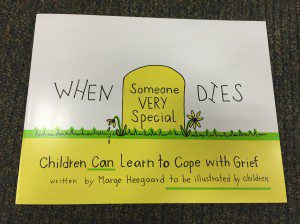 Indeed, death is the one thing that makes me wish I believed in God.
It is also, though, the one thing that won't let me. Because there is no way in hell that any sort of higher intelligence would sign off on Death as a concept. It is just too fucked up.
You take a guy and you give him Intelligence and you give him Love, and you give him Kids, and you make him Happy. Then you keep him around a nice long time, so that everything that makes him who he is — his voice, his laugh, his every character trait and quirk — is intimately tied into the Personhood of every single human who knows him. He matters. His life matters. His existence matters. It matter so much.
Then, one day, you take it away.
Just poof. Gone. No warning. Just unabated suffering for the man's family.
Not that warning makes it better. When there's warning, the suffering is greater for the man. You cannot say that's better. Deaths may be different; but none of them are good.
So what can we do? How can we make death — in all its terrible, unremitting finality — more tolerable? Well, there are ways, of course. And in order to make the most out of the lives we are given, we must find them.
Fortunately, as secular parents, there are some things we can do to make our kids' journeys a bit easier. Because we can be fairly certain that they will lose us someday, too. It is the endless cycle of fucked-up-edness, see? THANK YOU, OH MIGHTY GOD!) Speaking of which — it occurs to me that this might be a good time flag you to a really great, workbook-style book I recently came across: "When Someone Very Special Dies" by Marge Heegaard. (There are more snapshots of the book below; check them out. ) And, while I'm at it, I'm reposting my list of 12 Ways to Talk to Kids About Death for those — like my friend — who may be confronting death with their little ones in tow.
1. Have the talk before your child suffers a personal loss.
It never feels like the right time to broach the subject of death with our kids, which is why many of us put off the initial talk until the conversation is forced upon us — through some sort of personal tragedy. Unfortunately, by that point, we're stressed and sad; our kids are confused and scared; and our minds are flooded with all the things we need to get done. Coping is often the best we can do. Having thoughtful, hopeful conversations with our children about the cycle and meaning of life requires a clear mind. So, before something happens, be on the lookout for any and all excuses to have these talks. A dead bird in the yard can be a fantastic point of entry. Taking the time to explore the bird's death, what "dead" means, and why the bird died can open up those lines of communication in remarkably effective ways. Of course, many parents put off these conversations because they're children are young and/or they themselves are sensitive to the subject. Each child is different, of course, but generally kids want to hear about death much earlier than we expect. We know they're ready when they start asking questions: "Why is that bird not moving?" "Where did your grandma go?" or "What happened to those people at the Boston Marathon?"
2. Stay away from euphemisms.
Passed away. Taken away. Resting place. Went to sleep. Left. These terms are fine for adults, who know the score, but they're terrible for kids, who might find it really creepy that their uncle was "taken away." These terms, as well as many of them provided by religious imagery, are just too abstract for a young children, says Earl Grollman, who wrote the excellent book Talking about Death: A Dialogue between Parent and Child. Instead, use the real words: Die. Death. Kill. Murder. Suicide. Coffin. Cremation. Funeral. When we speak directly and specifically — even if the words seem sharp and awkward in our mouths at first — we avoid painful confusion and misunderstandings.
3. Let them do the talking.
Damn those awkward silences and our need to fill them. As I have mentioned earlier, we parents want nothing more than to comfort our kids. Soothing them is in our nature. To hold back from saying things that will make a child feel better is one of the more difficult aspects of parenting. But when it comes to talking about death, experts say, less is more. Explain death as simply as possible, then step back and let listening take over. Nods and hugs are fine, but parents who try too hard to comfort with words can end up explaining more than a child wants, or is ready, to hear. (Or they can unwittingly shut down on a child's natural, healthy response to death — sadness.)When in doubt, try turning the questions back on the child, suggests Grollman. When a child asks: "What did Grandma look like after she died?" a parent might answer: "What do you think she looked like?" This gives us insight into our children's imaginations and helps us guide the conversations where they need to go.
4. Don't shield kids from pet deaths.
One could argue that part of the reason we have beloved pets is to familiarize us with the idea of death, let us "practice" mourning, and remind us that life does go on — and the pain does lessen. But, so often, we shield our children from the reality of a pet death — and, therefore, pass up the chance to introduce our children to the very real sadness that comes with it. We also miss the opportunity to let our kids build up their own coping mechanisms. It may seem harsh, but encouraging our children to be present when our pets are euthanized and/or allowing our children to be involved in the mourning process with us (rather than, say, leaving the room to cry), we are teaching our kids how to mourn and move on. We are teaching them it's okay to cry, and that grief — no matter how painful — is not life-threatening.
5. Give them something to do.
When children lose someone they love, they benefit from being brought into the fray, as it were, rather than sequestered away from it. Modern therapists not only condone taking young children to funerals — they encourage it. Unless the child refuses to go (which rarely happens, I'm told), kids should be able to witness and participate in the catharsis that funerals bring. Also, children need confirmation of death much more so than adults do. Without it, they may view death as something mysterious and temporary, rather than a real, permanent event. They may even await a loved one's return. "Participation helps soften the pain, enhance the healing process, and provide an opportunity for acceptance and transformation," says Lynn Isenberg, the author of a book called Grief Wellness: The Definitive Guide to Dealing with Loss. "When a child can participate in a loved one's passing, it creates an action, a sense of doing, a sense of purpose, around the loss. A child can plan a ceremony, create a ritual, write words to share with family and/or friends, design an (activity) around healing… especially if the activity was directly related to the person who has died."
6. Keep heaven out of it.
Even nonreligious parents have a hard time leaving heaven out of death talks with their kids. We use heaven (yes, even Doggie Heaven) to put a positive spin on something heart-wrenchingly painful. But heaven isn't the salve some people think it is — not for youngsters. There is nothing "bad" in nature. And when we offer up heaven as a knee-jerk reaction, we lose out on showing kids the true and honest glory of nature. Things are born, they live and they die — and it is this necessary cycle that makes the world beautiful. Life and death are intricately related. There is no splitting them apart. And if we think about it for any amount of time at all, we realize we wouldn't want to. Heaven can be confusing for kids — do they have a right to be sad when everyone is acting as though there is a "happy" aspect to the death? Reminding a child that everything ends and dies, and that this is the nature of the universe, can and does help, says Eve Eliot, a psychotherapist and yoga teacher living from New York. For example, she often cites "the end of the day when the sun goes down, the disappearance of the dinosaurs, the time in (kids') lives when they have to leave the comfort of being home with their moms and enter school for the very first time. The very next inhale will be 'lost' on the very next exhale.
7. Don't yada-yada over the science part.
Talking about decomposing bodies may seem a ghoulish proposition, but the actual science of death is not only fascinating to children (particularly preschoolers), but can be comforting, too. It's true that adults tend to focus their worry on the emotional aspects of death — how it feels to lose someone we love, for instance. But children of a certain age aren't as consumed by the grief aspect of death. They are still working on how things die ("Could I have caused it?") and how it feels to be dead ("Will I be lonely?") This is why it's so important to explain to kids how we humans work — how our beating hearts are what keep us alive, and that there is a difference between bodies and consciousness. "Most children understand the concept of something that has 'stopped working completely and can't be fixed,'" social worker Debra Stang tells us. "It's also important to reassure children that a dead person doesn't breathe, wake up, go to sleep, or need to go to the bathroom, doesn't hear or see anything, doesn't get hungry or cold or scared, and doesn't feel any pain." But do remember, adds parent coach Miriam Jochnowitz, there is a limit to how much science to impose on a child. "It can be helpful just to understand more about what happened," she says. "But follow the child's lead. Do not expound if they are not interested."
8. Expect that kids (and adults!) will have widely varying reactions to death.
For most of us, grief has a certain look to it: tears, pain, prolonged depression. So when people react to death in a way that runs counter to our image, we think it's strange. We assume something is wrong. We worry. And it's no wonder — given the popularity of author Elisabeth Kubler-Ross' Five Stages of Grief, which was introduced in her book "On Death and Dying." Kubler-Ross said that the stages were denial, anger, bargaining, depression and acceptance, and that most people go through one or all of the first four stages before reaching the last. Over the last 15 years, this hypothesis has informed how we, as a society, view children's reactions to death, as well as our own. The problem is that it's all bogus. When it comes to the loss of a loved one, grief doesn't work in "stages" at all. In an enlightening book called "The Other Side of Sadness: What the New Science of Bereavement Tells Us About Life After Loss," author George Bonanno says that resilience — not denial, anger, etc. — is what truly defines grief. His scientific studies, conducted over 20 years, show that most people weather the deaths of loved ones relatively quickly and thoroughly. Even weeks after devastating losses, many are able to experience genuinely positive emotions, even laughter. And this is not denial or drugs doing the work — but rather their own natural resiliency, Bonanno says. Personality has a lot to do with grief reactions, of course, and there are probably those who experience grief in the Kubler-Ross-created image. But, in general, studies show, grief has an oscillating pattern. It comes and goes in "waves" — which is what, mercifully, allows us to take care of ourselves and those around us.
9. Seek help
Sometimes we just can't do it. No matter how much we want to, talking about death — or dealing with it ourselves — is a challenge we can't face. Maybe we have suffered a particularly devastating loss recently, or maybe WE'VE JUST GOT SOME ANXIETY ISSUES, OKAY?! Whatever the reason, there is no shame is handing off the baton to someone (another adult, a therapist) or something (the Internet, the library) better suited to guide children in positive ways. By showing our children that they have lots of resources and support available to them, we ensure that when WE aren't around, they will still have their needs met. There are some excellent books out there for broaching the subject of death with very young children. My personal favorite is still "When Dinosaurs Die: A Guide to Understanding Death," by Laurie Krasny Brown, which I wrote about here. But I also am crazy about an oldie called "About Dying" by Sara Bonnet Stein. It's a book for kids and parents to read together, but also has some great information in smaller print off to the side. "When a Pet Dies," by Fred Rogers, is also awesome (Did Mr. Rogers ever do anything that wasn't awesome?) and "The Fall of Freddie the Leaf: A Story of Life for All Ages" by Leo Buscaglia is also really nice. None of these books has a religious bent, by the way. [The one I mentioned above — "When Someone Very Special Dies" is also really great.]
11. Feel free to say 'I don't know.'
Not one person in all of history has ever known for sure what happens when we die. So why is that we parents have such a hard time admitting we don't know? When it comes to death — and, frankly, religion in general — we sometimes feel we must be on one side or another in order to maintain stability and consistency in children's lives. But this is one area where saying "I don't know" will never be seen as a sign of weakness or ignorance. What our children choose to believe as far as heaven/afterlife/reincarnation really has nothing to do with us anyway. We can state what we believe to be true, and we can state what other people believe to be true (to the best of our knowledge), but to think we are "teaching" them what happens after we die is a misnomer. No one can teach it because no one knows. Telling our children we're confused is okay. Telling them we keep changing our minds is okay, too. And throwing up our hands and telling them we haven't got the slightest idea what's going to happen — dammit, that's okay, too.
10. Tell the truth — your truth.
This one grew out of the comment of a mother who responded to my survey a few years back. "When it comes to death," the woman wrote, "I have allowed my children to believe in a 'heaven,' for lack of a better word. I felt that allowing them to believe that 'people go on to happy place surrounded by loved ones, waiting for other loved ones to join them someday' gives them comfort about losing people. Heck, it comforts me to make up a place like that when I am grieving also." It's not uncommon, as I said in No. 6, to gravitate toward the heaven narrative. Even nonreligious parents have a hard time with this one. But we can't — as in CAN NOT — "make up" an afterlife and ask our kids to believe in it. This is just not cool. As author Grollman says: "Don't tell children what they will need to unlearn later." There's nothing wrong with wanting kids to know about all the "afterlife options" out there, but why not refer them to those who believe? A grandparent, perhaps, or a beloved aunt? By all means, there is rarely harm in encouraging our kids to get religious input from other family members or friends, but don't lie. The stakes are too high, the potential to hurt our kids too great. The litmus test is this: Are we telling our kids the same thing we would tell a trusted friend? If not, it's time to come clean.
12. Talk about dead people in happy terms.
After a person dies, the only thing we have of them is our memories. Yet so many of us don't talk about dead people because we feel even our happiest memories lead us to melancholy. We assume the only way to avoid the painful end is to not begin at all. But honoring our dead and keeping them "with us" is part of how we cope with our losses. Suppressing those memories can deprive us of both joy and comfort. Working Grandma's favorite recipe into a mealtime, telling Grandpa's favorite joke, or recounting the copious amounts of liquor Great Aunt Tilly used to consumed at Passover every year are all healthy ways of coping — not just with their deaths but with death in general. Giving memories of our dead a happy "place" among the living benefits us all. Especially our kids.
More images from inside "When Someone You Love Dies."