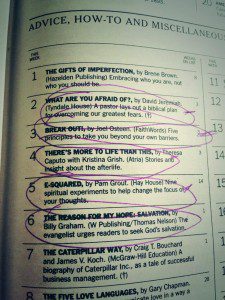 One Sunday, about a year ago, I read the New York Times' Bestseller List for advice and how-to paperbacks. It wasn't just a passing glance. At the time, I was trying desperately to finish my own advice book for secular parents and wanted to see what was winning people's hearts and minds in that particular category.
What I found was sort of devastating. Five of the top six slots belonged to Christians authors with Christian books: David Jeremiah (No. 2); Joel Osteen (No. 3); Theresa Caputo and Kristina Grish (No. 4), Pam Grout (No. 5) and Billy Graham (No. 6). That's when I knew: Barring a miracle (and obviously I don't believe in miracles), I would never see my book on that list. As in: never ever. So I did what any bummed-out author would do. I tweeted about it:
Writing a book for secular parents? Do yourself a favor and DO NOT read today's Bestsellers list.
Fast forward to this morning, when I read a headline in The Daily Beast: How the Religious Right Scams Its Way Onto the New York Times Bestseller List.
Wait. What?
According to the article — which was written and reported by Patheos blogger Warren Throckmorton — there has been a trend among some evangelical authors (not all, of course) to buy their way onto bestseller lists. They do this, allegedly, through marketing firms that buy a particular title (or pay others to do so), thereby boosting that book's ratings and allowing "New York Times Best-Selling Author" to appear before the writer's name until the end of time. (Lucky bastards.)
But the jig is up. Or is headed in that direction anyway. According to Throckmorton:
In January 2012, former megachurch pastor Mark Driscoll's book Real Marriage went to the top spot on the Hardcover Advice section of The New York Times best-seller list. In March 2014, it was disclosed by evangelical magazine, World, that Driscoll's publishing success was aided by a consulting firm called ResultSource, which purchased books on behalf of Driscoll in a coordinated effort to spike sales and give the impression that the book was popular with thousands of book buyers. Driscoll recently resigned from his church and one factor associated with his departure is the decision to buy his way onto the best-seller list.
Driscoll later admitted that the scheme was wrong and even asked that the designation "New York Times best-selling author" be removed from his bio and book covers.
Driscoll, who has also been accused of plagiarism in the past, stepped down as pastor of his 14,000-member megachurch, Mars Hills Church — which has since shut its doors.
The Beast article cites at least three other authors who admitted using ResultSource. Plus, last week, in World Magazine, author David Jeremiah appeared to defend the buy-your-own-book tactic, saying it wasn't about book sales or fancy ratings — but about making sure these wonderful books get into the hands of the people who might benefit from them. He didn't call it cheating. He called it marketing.
The bottom line is you're selling these books and they're just not getting noticed. If you want the books to be noticed so that you can reach more people with them, you've got to figure out how to do that. I don't know all of the ramifications of it, but I know that you can't just write a book and say I'm not going to have anything to do with marketing. If you don't care enough about it to try and figure out how to get it in the hands of other people, nobody else is going to either.
David Jeremiah, David Jeremiah… Where have I heard that name before? Oh, yes. My list. He was No. 2. Bless his heart.
Throckmorton wrote a follow-up piece today, indicating that the story is still developing. He has named Tyndale House and Harper Collins Christian as two of the publishers implicated, but said that there may be far more publishers and/or writers involved in the deception.
These authors may represent the tip of the iceberg, or they may represent a tiny fraction of authors who seek publishing success the old fashioned way. At present, given the silence of the largest Christian publishers, and the apparent willingness to go along with manipulation of the best-seller list, the Times' rankings have lost their luster as a gold standard of book popularity. Until publishers declare the practice to be unethical, it will not be clear which authors are the real deal and which have purchased their way on the list.
It should be known that it's not just religious writers who have used ReportSource, a firm out of San Diego. The Wall Street Journal reported that ReportSource had been used to move some business books onto the New York Times' Bestseller's List, as well — including one called Leapfrogging. The author of Leapfrogging, Soren Kaplan, told WSJ that he paid ResultSource upwards of $75,000 for their services.
Driscoll — or, I should say, Driscoll's church — paid even more: a whopping $210,000.
Being unethical is so much easier when you're rich.
As of today, ResultSource's website is showing no information other than a "contact us" link. Maybe the public outing will put them under, or maybe they'll just reopen under another name and be a bit less obvious about their tactics from now on. Unfortunatley, as long as there's access to lots of money, there will always be takers.