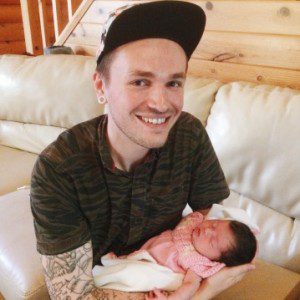 As you may recall, I am a godless godparent to two adorable children, so it was with great interest that I read Chris Stedman's most recent column for the Religion News Service about agreeing to become a godparent to his infant niece. Stedman is an outspoken atheist, gay activist and author of Faitheist: How an Atheist Found Common Ground with the Religious. His non-anti-religious atheist position (and, no, I couldn't have said that more clearly) is refreshingly similar to my own, so I wasn't particularly surprised when Stedman approached the whole godparent thing with compassion and circumspection.
When my sister was pregnant with her third child, I received an ultrasound image in the mail. Attached to it was a handwritten note: "Would you be my godfather… er… sponsor… ah… special person? You know what I mean."

My niece is now a few months old. Next month, she will be baptized. And I've been asked to stand alongside her at the front of the church and pledge to be her godparent.

Being invited to support a loved one's child is a wonderful honor. But I can also see that, on the surface, it may seem strange that an atheist would sponsor a baptism and serve as a godparent.
What touched me most about the story, though, was not Stedman's non-anti-religious atheist position (admit it, it's starting to grow on you), but his sister's non-anti-atheist religious position (okay, now I'm just fucking with you). A devout Lutheran, she didn't hesitate before asking her brother to sponsor her daughter. And her reasons were so open-minded, it nearly brought tears to my eyes —a feat that usually requires the sight of Jimmy Stewart singing Auld Lang Syne together with a bunch of his banking customers or video of police officers in Kansas City handing out $100 bills to people with shitty cars.
Here's the part that got me.
"As far as I'm concerned, you being an atheist is a plus, not something to work around or gloss over," she said. "I want my kids to grow up knowing that there are good people of all beliefs—atheists, Muslims, Hindus, everyone—and I want them to see that they will be a part of this family whether they grow up to share my beliefs or not."
I truly believe that the best type of godparents are not those who take kids to church or promise to keep them on a good Christian path, but those who expose children to multiple religions (as well as atheism, agnosticism and humanism), who help children appreciate the diversity around them, and who encourage children (by example) to be kind, decent, loving human beings.
Here's Stedman again.
In a few weeks, when I stand at the front of a church and pledge to be a godparent to my niece, I will aspire to match my sister's loving, open-minded embrace of difference.

For some, being a godparent means helping to guide a child in their religious faith. But for others, like me and my sister, it means being there to love and support a child as they discern their own path in life.

The latter conception of what it means to be a godparent will probably become more and more true in our religiously diverse world, with atheists serving as godparents to the children of Christians, Muslims serving as godparents to the children of Jews, and so on. Our differences are obvious, but there is also much that we can teach one another.

Godparent, sponsor, or special person, you can call me whatever you want. I love my brave sister, her wonderful husband, and their beautiful children, and I'll be proud to stand alongside them in their church as I pledge to support the newest member of their family— my goddaughter.
And the world will be all the better for it.