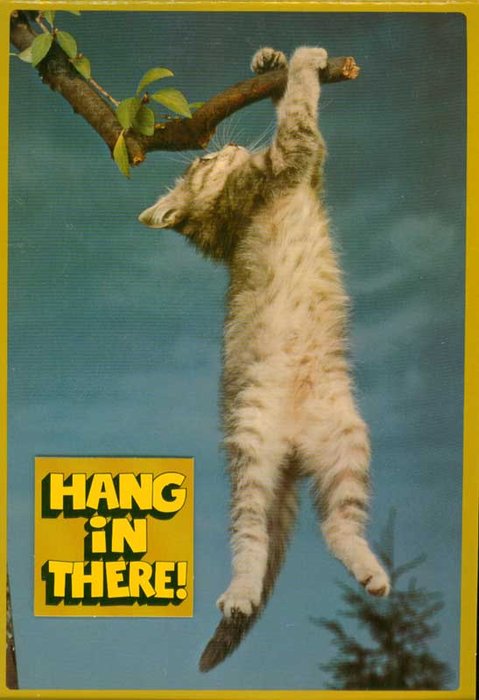 If this poster looks at all familiar, you were probably alive in the 80s. For many years, a kitten hanging from a tree branch with the tagline "Hang in there" was as ubiquitous an image as you were likely to find. The pre-Internet version of LOLCats. (What is up with Americans' weird fascination with captioned cat pictures?)
Anyway, the reason I bring it up is because that poster informed how I looked at "hard times" when I was a kid. "Sometimes life sucks and you've just got to hold on," is what I took from it. And it's not bad advice — at least sometimes. After all, tomorrow usually is a new day.
But when it comes to grief, as it turns out, this poster is for the birds.
As I said last week, I've been chatting recently with Grief Recovery Institute co-founder Russell Friedman about helping children deal with grief. The guy is a wonderful resource, as is his book When Children Grieve: For Adults to Help Children Deal with Death, Divorce, Pet Loss, Moving and Other Losses. He and his co-writers talk a lot about common myths associated with grief, and one of them is this one: Time heals all wounds. The truth is, Friedman says, time alone is rarely enough. Grief is not like a cut on your finger. (Or a kitten hanging from a branch.) Waiting for the pain to go away will only prolong the pain.
Friedman makes clear in both his books and conversations that grief is not a byproduct of death. Grief is a byproduct of loss. People grieve numerous losses, both tangible and intangible — loss of life, love, loss dreams, faith, safety, control, addiction. The list goes on. He also makes clear that grief is cumulative. It doesn't just stick around. "It gets worse," he says. Each loss is compounded by the next. If we don't deal with our broken hearts — or, as they say in grief recovery, "complete the grief" — the first loss gets rolled into the next loss, and the next, and so on. Often, Friedman says, when people come to him, they think they're grieving a death but find they're actually grieving numerous other losses, as well. And when they leave the program? "They feel as though a weight has been lifted," he says.
Friedman likes to invoke the image of a flat tire. When you have a flat tire, he says, you don't just sit down and wait for it to mend itself. You fix the flat, or call someone in to help. Either way, you know you've got to get air into that tire if the car is going to get back on the road. "A broken heart," he says, "is remarkably like a flat tire." Recovery requires action. (I'll be discussing more of what Friedman means by "action" in the coming weeks.)
To be clear, this is not an advertisement for the Grief Recovery Institute. I've never been through the program myself. But Friedman's theory — that grief requires action, and that action lessen griefs — is one that, like all his advice, makes sense to me. It makes sense to me that that people need to be able to feel bad when bad things happen. It make sense to me that "staying busy" is not an antidote to pain. And it makes sense to me that grief is something that can be lessened, but not by itself.
What doesn't make much sense to me anymore is this whole notion of just hanging in there. Because, I mean, look at that picture. We all know how that one ends. The cat falls off the branch, breaks its little kitty legs and has to be euthanized.
And who wants to LOL about that?