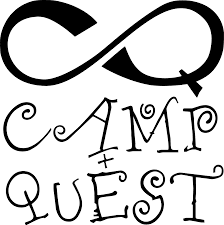 As you might recall (and if you don't you might want to get that checked out because this was, like, three months ago), I wrote about my visit to Camp Quest — the summer camp for freethinking children that is now expanding rapidly throughout the United States. And rightly so, I might add. That place is very freaking cool.
Anyway, around the same time I took the tour, I was interviewed myself for a profile on the Camp Quest website. We talked about secular parenting (of course), death without heaven, and the conflict between respectfully teaching religion while trying to address religious values that conflict with religious teachings. The Q&A is up now, so do check it out!
Also, while I'm at it:
• The incredibly talented and delightfully British Godless Spellchecker himself Stephen Knight has just posted his latest GSPodcast — No. 67 — featuring our interview from last week! Had such a good time with the guy. Hope it comes through in the podcast. (The podcast was posted as I was finishing this blog post, or else I would have led with this. Thanks again, Stephen.)
• Goodreads is hosting a giveaway for my book until Oct. 21. Five signed copies will be given out in a random drawing. If you are even moderately interested in Relax, It's Just God but have been too, um, frugal to buy one (hey, no judgment!), then be sure to put your name in the hat over there.
• Also, if you happen to the in the LA area and are free tomorrow afternoon, I'll be speaking about my book and writing career at the Liberal Arts Campus of Long Beach City College at 1 p.m. Tickets are $15 for non-students. Call 562-938-4317 for details.
Have a great weekend, everyone!