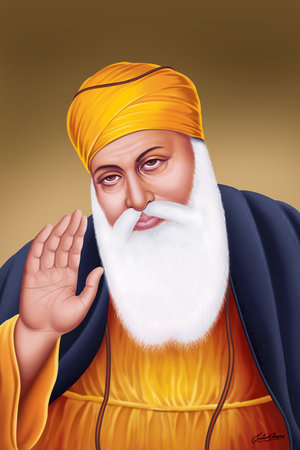 If Guru Nanak were alive today, the Sihk leader would be turning 544 years old — a mere child compared to Islam's 1,400-year-old Muhammad, Christianity's 2,000-year old Jesus, and Buddhism's 2,500-year-old Buddha. Still, as Guru Nanak would undoubtedly be keen to point out, he still has more than 300 years on Bahá'u'lláh, the founder of Baha'i.
Whenever a religious leader's birthday rolls around, I try to think about them in human terms. About who they were during their lives, whether they were out for any glory or money, or whether they were surprised when their innermost passion brought them fame. All these men had something remarkable to offer the world; they wouldn't have gathered so much momentum if they hadn't. Nanak was devoted to providing an environment of inclusiveness — regardless of race, color or creed — and emphasized that there was but one God who dwells in all people.
One of the great recurring ironies of religion, of course, is that each time one of these visionary spiritual types waves off religious leaders and institutions of the past and discovers a new, purer version of truth, he later find himself in the role of religious leader and his ideas the basis for a religious institution. As a young boy, Nanak was quite taken with spirituality and was encouraged to pursue his "divine" path. Around the year 1500, when he was 30 years old, he reportedly gave a speech, in which he said:
There is neither Hindu nor Mussulman (Muslim) so whose path shall I follow? I shall follow God's path. God is neither Hindu nor Mussulman and the path which I follow is God's.
Five hundred years later, and the path that Sikhs follow is Nanak's.
I wonder how many families have pictures of religious leaders in their homes — a reminder, perhaps, to act according to the values they hold dear and give thanks for the opportunity to hold such values at all. Born in a different culture at a different time, the religious influences, and thus the pictures, would undoubtedly be different. But the importance of such physical reminders of devotion would probably remain. It's the same reason humans possess Bibles and create shrines and visit places of worship, I suppose — so they can more easily "access" the universal element that allows them to breathe and love and be.
I'm an aesthetic minimalist, so I don't have a lot of photographs hanging in my home — religious or otherwise — but I have occasionally thought of creating a space for pictures of the people to whom I'm devoted. The people who remind me to be the person I want to be, and who are, quite literally, responsible for my existence. The people who help shape my thoughts and lead me in the direction I want to be going.
There would be my parents and grandparents and great grandparents as far as I could trace them. There would be my sister and brother and their families. My husband and in-laws. My daughter. There would be my friends and mentors and godparents (who did a very poor job at helping make me godly but a very good job of helping make me happy.) And there would be people I don't know but who have helped me think more deeply about who I am, how I am, and why I'm here. People like Plato, Aristotle, Epicurus, Kierkegaard, Neizsche, Sartre, Freud, Darwin, Piaget, Einstein, Lincoln, MLK Jr., Twain, Hawking, Sagan, Goodall, Friedan, Steinem, Colbert, Oprah, E.T., the Buddha, The Beatles… Looks like I'm going to need a bigger house.
How about you? If not Nanak, who's on your wall?