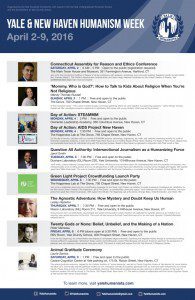 If you're on Facebook or The Twitter, please be sure to keep in touch with me this weekend, as I hit the road for two speaking engagements in Connecticut.
First, I'll be speaking Saturday at the Connecticut Assembly for Reason and Ethics — a one-day conference at the amazing Mark Twain House and Museum, spearheaded by the Connecticut Coalition of Reason. My Patheos pal Hemant Mehta will be keynoting the event, and my talk, Atheism & Interfaith: Building Bridges with Honesty, Integrity and Compassion, will start at noon and be followed by a short Q&A.
Then, on Sunday, I head over to Yale (I always dreamed of going to an Ivy League school!), where I'll speak to a Yale Humanist Community audience about secular parenting. That talk is called 'Mommy, Who is God?': How to Talk to Kids About Religion When You're Not Religious. Starts at 1 p.m. at The Grove in New Haven, and is both free and open to the public.
Super excited to join what's being billed as Yale & New Haven Humanism Week, and will socialmedia as much as I can.
In the meantime, stay tuned for a guest post by Chris Matallana, a fellow secularist and father who founded The Thick Darkness, a site devoted to helping non-theists practice personal growth, cultivate wisdom and find deeper meaning in their lives.
Have a great week!
— WTR