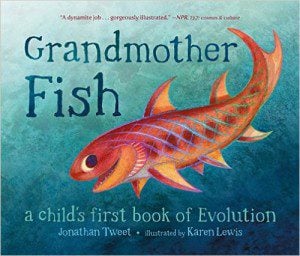 This weekend, my genius sister introduced me to Grandmother Fish: A Child's First Book of Evolution. The book was self-published in September but has received so much great press (on NPR, among other outlets) that Jean Feiwel, the vice president of MacMillan, picked it up for her personal imprint, Feiwel & Friends.
I can see why.
Written by Jonathan Tweet and illustrated by Karen Lewis, Grandmother Fish is, by far, the best children's book I've ever seen introducing very young children to the concept of evolution. The illustrations are great; the writing straightforward and concise.
The creators turned to crowd-funding to publish the first edition. In the video embedded below, Tweet and Lewis introduce an early draft of the book — and explain what prompted them to make it.
"You know, creationists have their own origin stories," Tweet said, "and they've got plenty of books about Adam and Eve that they can give to their toddlers. We need the same thing. We need books for our very youngest children that tell them where they came from."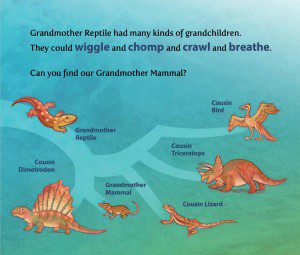 According to the book's website, Grandmother Fish was written for preschoolers in mind.
"The book engages a young child's imagination with sounds and motions that imitate animals, especially our direct ancestors. It lets children see for themselves that we are related in form and function to the nonhuman animals that came before us. It's the story of where we came from, told so simply that a preschooler can follow it. Wiggle like a fish! Hoot like an ape!"
It may be written for the very young, but kids up to age 8 or 9 are sure to enjoy it, too — especially if they haven't yet grasped evolution.
The second edition of Grandmother Fish comes out Sept. 6. Pre-order it on Amazon here.