Holy Heck, it's already Holi! Yeah, I know, you have no idea what I'm talking about. That's why I'm here.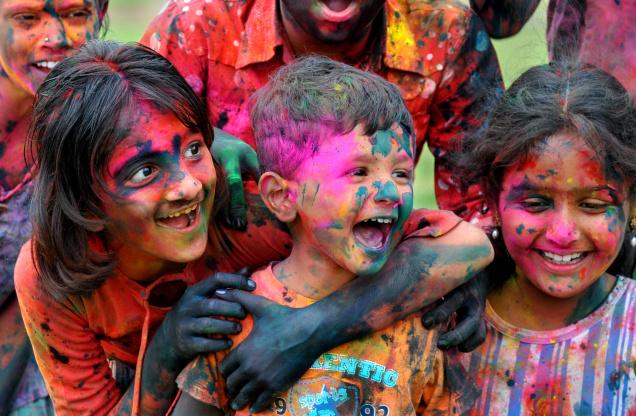 Holiday: Holi
AKA: "Festival of Colors"
Religion Represented: Hinduism
Celebrates: Holi has both secular and religious meaning. First, it celebrates the beginning of spring. Second, it celebrates an ancient Hindu story ending — as so many do — with the triumph of good over evil.
Date: Full moon during the Indian month of Phalguna. In 2016, it's Thursday, March 24.
On a Scale of 1 to 10: Religiously speaking, Holi is quite low — no higher than a 2. Culturally speaking, it's a 9.
Notable Rituals: Holi celebrants have parties and street festivals, light bonfires, and throw/rub colored powder and fragrant water on each other.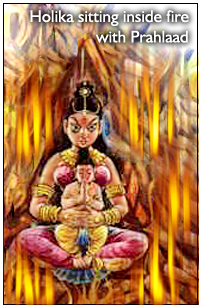 Back Story: Thousands of years ago, throughout India, bonfires would be lit on the first full moon of spring to mark the end of winter. People burned old leaves and wood to make room for new flowers and leaves. They rub their bodies with the ash. As the "religious story" of Holi goes, a demon king named Hiranyakashipu became incensed when his own son — literally a demon spawn! — became devoted to the much-venerated god Vishnu. The boy, called Prahlada, wouldn't stop praying to Vishnu. Unable to come to terms with the betrayal, the demon king tried to kill the boy using all sorts of antiquated methods. Poison was the first method, but the poison just turned to nectar in the boy's mouth. Then he ordered his son trampled by elephants and put in a room with hungry snakes. No dice. With Vishnu's help, the boy survived both attacks. Finally, the demon king recruited the help of his sister, a demoness named Holika who was immune to fire. Holika took Prahlada into the fire and sat with him, anticipating that he would burn up in her arms. Much to everyone's amazement, it was Holika who burned and Prahlada who remained unscathed. "Holi" is a shortened version of Holika.*
Associated Literary Passages: The first mention of Holi — including the use of colored powders and perfume — appears in the Ratnavali, a sanskrit drama attributed to the 7th-Century Indian emperor Harsha. Unlike the Vedas, the Mahabharata and the Ramayana, the Ratnavali is not considered a sacred text.
The Fun: Hindus and non-Hindus alike celebrate Holi, which is considered a time when enemies make friends and all social classes come together. The rich and poor unite and celebrate as one group, emphasizing their similarities rather than their differences — something of particular significance in India, where a traditional caste system reigned supreme for so long. Inhibitions also break down, and people are encouraged to break loose, drink liberally, and "openly flirt" with each other. For more fun information, you can visit holifestival.org.
Conveying Meaning to Kids: Always a good idea to start out with a brief reminder of some Hindu basics. Then, if the weather fits, build a fire and tell the story of the demon king and his pious son. If you're more adventurous, you might let kids shoot each other with water guns and have a colored-powder party. You can buy the powder on Amazon here. Parents might also cook up one of these seriously delicious-looking Holi recipes and play the song Rang Barse, the unofficial anthem of Holi. Here's a video — complete with colored powder and open flirting.
*There are other legends associated with Holi, but this is the most popular.
A version of this post originally appeared in March 2013.