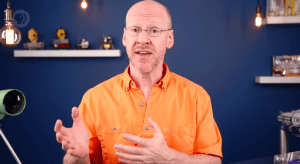 In college, I enrolled in an astronomy class. I remember being so excited to learn about the stars and planets and black holes and all the rest of it.
But, when it came to being assigned a professor, I drew the short stick. He was a very old Japanese man whose heavy accent made it impossible to understand anything he said. ("Star" was pronounced "Stah-waaah.") And, in astronomy, when everything has the potential to confuse, it was just too much for my neophyte brain to handle.
Enter Phil Plait.
Plait, who writes Slate's Bad Astronomy blog, has an incredibly cool new series called Crash Course Astronomy, which airs on the PBS Digital Studios YouTube network.
If it's true that I drew the short stick with my astronomy teacher, Phil Plait is the living embodiment of the long stick. He is passionate and articulate and really, really smart. And he crams so much information into 10 minutes in such a compelling way.
He's like the Alton Brown of Astronomy.
I've been watching a lot of Crash Course Astronomy lately — not only for myself but because I'm hopeful that, with Phil's help, I can take a more active role in my daughter's interstellar education. At the very least, by throwing out a fact or two while looking into the night sky this summer, perhaps I can appear less a bumbling idiot and more like someone who actually knows stuff.
Misleading kids is fun.
If you're interested, I'd suggest you
start here,
with
No. 1: An Introduction to Astronomy.
Then make your way through whatever catches your fancy. I quite like No. 4: Moon Phases.
My favorite to date may just be No. 19: Uranus and Neptune.
But No. 18: Saturn is also really great.
Anyone else got a favorite? Let me know and I'll be sure to add it to the list.