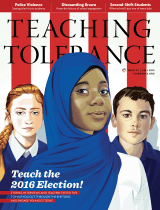 As some of you no doubt heard, President Barack Obama (boy, do I like still writing that) gave a stirring speech Sunday in which he pleaded with every African-American citizen to, GODDAMMIT, FOR THE LOVE OF GOD, GET OUT AND VOTE.
Okay, he didn't put it that way, but he may as well have, as emphatic as he was.
"Our progress is on the ballot," a emotionally charged Obama told the Congressional Black Caucus Foundation. "Tolerance is on the ballot. Democracy is on the ballot. Justice is on the ballot."
And only one candidate will advance those things. Let you guess which one.
"I will consider it a personal insult — an insult to my legacy — if this community lets down its guard and fails to activate itself in this election," Obama said. "You want too give me a good sendoff? Go vote!"
Obama's remarks about tolerance echoed what the good folks at tolerance.org have been saying for months. The Summer 2016 issue of the group's quarterly magazine, Teaching Tolerance, ran a story about the so-called "Trump Effect" — that is, the increasing tendency of children to pick up on Trump's rhetoric and use it to spread bigotry, prejudice and hate among their peers.
The just-released Fall 2016 issue of Teaching Tolerance goes even further, dedicating most of its pages to the presidential election — which, as the magazine points out, is wreaking havoc in classrooms and on playgrounds throughout the United States.
Not only are teachers having to explain the nasty mudslinging and incredible prejudice coming out in this particular election, but Muslim and Latino children are being taunted by their peers on a regular basis.
"You should get thrown back to Mexico," said a first-grader to another first-grader in Berkeley, California, otherwise known as a bastion of liberality. "You're gonna get deported."
Berkeley being Berkeley, the school where this happened immediately mobilized a district-wide effort to face the bigotry head-on. Headed by teacher Tracey Iglehart, the schools began a campaign to spread one, simple message: "We All Belong in Berkely." The slogan was printed on posters in English, Spanish and Arabic.
Then schools staged a Teach In, where children in every grade level were taught about immigration and about how every American child — with the exception of Native Americans — had an immigration story to share. Children were encouraged to study their own family's stories, and teachers talked about refugees and about enslaved people who were forced to leave their homelands. The Teach In had an immediate effect, according to the magazine.
Teachers overheard students saying, "I'm so glad we're finally talking about this."
Berkley is such a great model for what I hope schools throughout the country will do if and when they notice Trump's brand of intolerance being spewed on playgrounds.
"The Teach In did more than unite the children of Berkeley around a common belief," the magazine said. "It changed the way their teachers view anti-bias education."
And then past that, we all just need to get out there and vote. Our kids don't deserve four years of this tool.
As Obama said Sunday: "Hope is on the ballot, and fear is on the ballot, too."
To learn more about how to resist derisive rhetoric and encourage your school community to do the same, visit: tolerance.org/civility.