Hey everyone! It's Halloween! Who doesn't love Halloween?
Wait, don't answer that.
Because this:
An Ellettsville [Indiana] family whose home is decorated for Halloween contacted police after someone placed on its porch a flyer that suggests Halloween praises the devil.

Dalene Gully said she took offense to the flyer, which was placed outside her home by the House of Prayer Church of Bloomington.

"I started reading it, and I was very, very upset by it. I found it very accusatory and very threatening," Gully told RTV6's Ben Morriston.
That's the lead of a story that ran over at theindychannel.com, a nice reminder that some people still think of Halloween — a holiday that allows little kids to dress up in cute costumes and receive treats and smiles from their neighbors — as insidious and evil.
You'll be happy to know, though, that where there is conflict, and there is ALWAYS conflict, there is a happy medium. And the happy medium between the freakishly religious and adorable, candy-loving children resides squarely in religious costuming for kids. Here's your top 10.
1. Jesus of Nazareth
Christianity still reigns supreme here in the United States. According to the latest statistics, 71 percent of the population ascribe to one of literally hundreds of Christian denominations — making Jesus the top choice in faithwear. Who needs Jesus Ween when you can dress as Jesus for Halloween? Oh, and also: How cute are those shoes?
2. Nun
/>
When asked "What Would Jesus Wear?" (for Halloween), nine out of 10 Catholics with a sense of humor said "Nun." Also, there's nothing risqué about this little number, making it a crowd favorite among dads. Get one while supplies last.
3. Torah Boy
We were sorry not to see this guy rank higher on the list. I mean, it's a kid dressed as a Torah, people. A Torah. There is literally nothing in the history of time cuter than this costume. Unfortunately, Judaism carries a much smaller percentage of the vote than Christians (1.7 percent), and Little Torah Boy's ranking reflected that.
4. Islamic Girl
Maybe it's the hot weather in the Middle East, but Muslims have the comfort thing down pat. If you've got one of those kids who just wants to trick-or-treat in her pajamas, this costume may be the ticket. Check out the Islamic Boy outfit, too. Just as cute, and well-worth the extra shipping to have it sent from the UK. Happy Allahween!
5. Buddha.
Technically, Buddhists are more prevalent than Muslims in the United States. But this Gold Buddha Costume got docked some points because it only comes in adult sizes. I know, we were shocked and outraged, as well. The CEO of BuyCostumes.com ought to know that when Gold Buddha isn't offered in toddler sizes, children suffer.
6. Hindu Girl
Unfortunately, the controversy over supermodel Heidi Klum's Shiva costume several years back has sent children's shops retreating from Hindu god and goddess costumes. So this year we we're limited to regular Hindu wear. Luckily for us, saris tend to be pretty spectacular, and this Bollywood Princess costume is no exception.
7. Atheist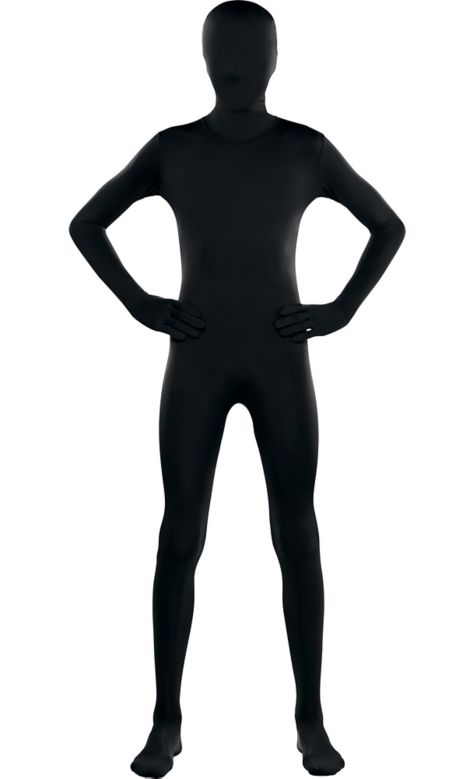 We'd hate to leave would-be atheists out in the cold on Halloween, so here's the closest we could come to dressing as, well, nothing. It's not a bad likeness as likenesses go, really. And morphsuits have great reuse potential. Outline the whole thing with purple cord and you've got one half of a fantastic Harold and the Purple Crayon costume for next year.
8. Scientologist
Truthfully, I don't consider Scientology a religion. But the Scary Factor of this particular costume made it a shoe-in for Halloween fun. Sure, most kids would rather go as Nothing, but we're all about offering options. And with the right look — great hair and some occasional couch-jumping hijinks— little kids will will run screaming. Don't forget your Dianetics book and E-Meter!
9. Moses
You had me at the 10 Commandments. It's all about the accoutrement, and Moses always did have the best stuff. In addition to the commandments, kids also might consider carrying a burning bush, a brass serpent or just a shitload of stone. (That guy loved him some stone.) If you're looking for group-costumes, you might consider going as the 10 plagues. Incredibly, plague masks are easy to find. Just be sure that no matter who joins Little Moses in trick-or-treating, he gets to lead the way. Ha ha.
10. The Virgin Mary
Originally, the Confucius facial hair was on the list at No. 10, but we just couldn't do it. It was so flippin' lame. And there was something offensive about the whole thing, too. (Quiet. Don't say it.) So we settled on Little Mary with her baby Jesus. Again, perfectly acceptable for Jesus Ween, and heart-meltingly sweet. I just want to scoop this little girl up in my arms right now and bring her home. It would totally be worth having Jesus call me Grandma.
So there you go. Hope you all have a swell holiday. Just remember, no matter what faith you're representing, keep it clean out there, okay? Halloween is supposed to be scary, but not, like, religious-war scary. And if you live in my neighborhood, don't forget to knock on my door. I'll be the one dressed as the Irreverent Blogger in Danger of Being Shot By a Fundamentalist.
A version of this post originally appeared in October 2011.