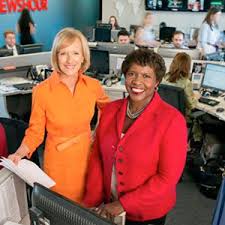 As some of you know, in January, I started writing a parenting column for the PBS NewsHour's website. I've written on parenting an only child, teaching science to kids, and (most recently) bikinis, among other things.
I've been very grateful for the opportunity to work with such a prestigious organization. When I was growing up, the NewsHour — which was then called The MacNeil/Leher NewsHour — was a mainstay in my family's living room. At that time, all other TV news channels paled in comparison to the NewsHour. That still holds true today, under the stewardship of anchors Judy Woodruff and Gwen Ifill.
So it was with a certain amount of surrealism that I toured the NewsHour station in Washington, DC, Tuesday evening and with even more surrealism that I was interviewed about my book, Relax, It's Just God, for the NewsHour's BookShelf series the following morning.
I am now home in California, and the entire thing feels a bit like a dream.
I suppose when they air the book segment — which should be in the next week or two (and I will definitely keep you posted!) — then maybe it will seem real. Maybe. But I kind of doubt it.
Here are a few snapshots of the trip: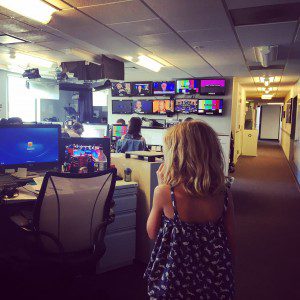 First stop: newsroom. I should have taken a panoramic; that is only one of the three banks of TVs in that room. (Maxine was pretty impressed.) Not shown is Judy Woodruff striding through the newsroom on her way down to the studio. She stopped briefly to shake my hand, wearing the fabulous orange number that she wears in the advertisement pictured above. So, yeah, like I said, surreal.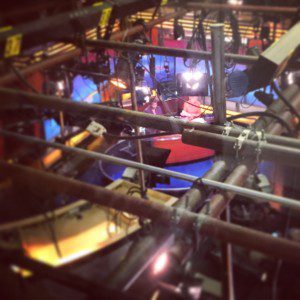 A window in the newsroom overlooks the studio below. Here is a picture of Ifill and Woodruff setting up for the show. Where's a zoom lens when you need one?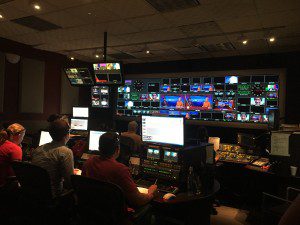 This is the control room. We watched the first part of Tuesday's show from here before continuing on our tour.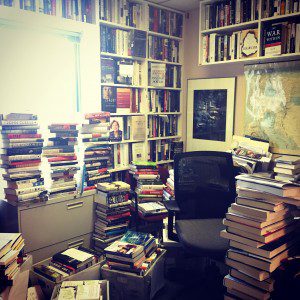 Almost as cool as the control room (to a book nerd like me) was the book editor's office. Brimming with new reads, I felt, in that moment, more honored than ever to be invited on the show.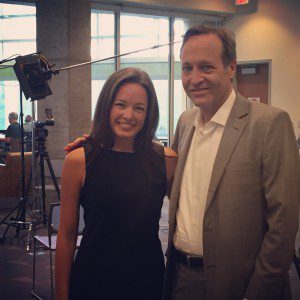 Last but not least: A quick snapshot with Jeffrey Brown after filming at the Shirlington Library, just around the corner from the station.
It's not often that secular parenting gets a spot on a national television program — much less one that I have admired so much for so long. I am truly grateful.
(And, to think, I didn't even pray to make it happen.)