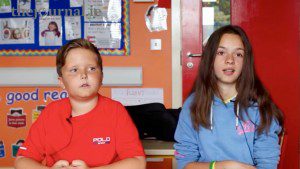 An Irish news site posted a short video yesterday featuring four children talking about what it's like to learn about religion in school — and there is ample evidence to suggest that it wins the week in videos.
Exhibit A: There are few things more adorable than 11-year-old children speaking in Irish accents. I don't mean that to be condescending; it's just fact.
Exhibit B: Two of the kids, classmates from a school in Dublin, are interviewed together and speak like a married couple, finishing each other's sentences without even looking at each other.
Exhibit C: The video features one non-believer, who is wearing a "Welcome to Miami" T-shirt. And most of you will enjoy his description of what the Catholics and Jews believe — and the little laugh he gives midway through. (Because, bless his heart, he can't help himself.)
Exhibit D: Donald Trump is neither shown nor mentioned even one time.
The interviews are part of an excellent three-day series by TheJournal.ie, which examines religion's changing role in Irish schools. As it stands, some 96% of Irish primary schools are run by religious institutions, and enrollment policies are under fire.
Anyway, here's the video. You're welcome.