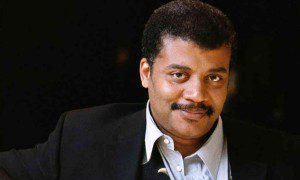 Astrophysicist Neil deGrasse Tyson turns 57 today — Happy Birthday, Neil deGrasse Tyson!
I've been a Tyson fan ever since I saw the interview he did with Steven Colbert in 2010 (Remember that one?) But, seriously, who doesn't love the guy? He's super-smart, super-nice, funny, personable and driven. And he's truly making the world a better place. Using his increasing fame to spread the Word of Science, he has seamlessly grasped the baton left by Carl Sagan — who became America's first science sweetheart when he launched the TV show Cosmos: A Personal Voyage in 1980.
I also admire Tyson for his views on religion, which never fail to come up during his sit-down talks with his fellow scientist Richard Dawkins. The two spoke for nearly and hour and a half in Tyson's office a few weeks ago — all of which was filmed and can be viewed here.
Although neither scientist believes in God, Dawkins is, of course, unabashedly anti-religious. He treats religion a bit like a fly in his line of sight, ignoring it when he can but swatting at it with dismissiveness and irritation when it comes too close.
Tyson's attitude on the matter is more like my own. In his view, religion is only as benign or harmful as the people who wield it. How to deal with "religion," then, depends on the type, location and specific actions of a particular brand of religious person. Tyson acknowledges that he is bothered when religion creeps into school classrooms or government decisions but has no desire to rid humanity of religion.
"Sometimes people just want to feel rather than think." Tyson told Dawkins at one point.
"I care less whether someone is religious than whether they have the capacity to think logically. But, more broadly, what I object to is dogma being the foundation of governance."
Yes, he added, "dogma is a big part of religion," but there is plenty of nonreligious dogma corrupting our world as well.
Dawkins and Tyson appeared together yet again on Real Time with Bill Maher show a couple of days ago. (That clip is below.) In terms of their interactions, they were entirely respectful of each other but customarily firm in their differences. Dawkins, who is more like Maher in his no-nonsense, unapologetic, call-it-like-you-see-it activism, again reiterated that religion — particularly religion that undermines science — is threatening. And, like Maher, he sees ridicule as a fair tactic in advance of reason.
Tyson, onto other hand, reiterated that he saw no benefit in attacking religious people as idiotic; as an educator, he sees his job as leaning into his opponents with kindness — hoping that others, religious or not, may become enlightened on their own.
I love Neil's take on this. And I think he's right.
Although I appreciate Maher's astute and very funny observation that Tyson plays the "good cop" to Dawkins' "bad cop," I think the world needs more good cops — both on the streets, in science labs, and on Maher's show. Ridicule is very funny and emotionally satisfying to people who agree with you; but it is takes an awful lot of collateral damage — and is almost completely ineffective.