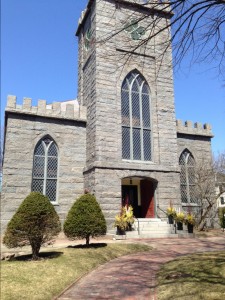 Join us for CUUPS Convocation July 24-26, 2015!
Come to a special gathering as we return to our roots for inspiration and revive the Continental Gathering of the Covenant of Unitarian Universalist Pagans on July 24-26, 2015 at First Church Unitarian in historic Salem, Massachusetts. Our theme will be "Awakening Our Tribe" This year's Convocation is the first in ten years and it is time to awaken the spirit of Unitarian Universalist Pagans.
First Church Unitarian is has a 377-year history that began when thirty of the newly arrived Puritan settlers of the Massachusetts Bay Colony gathered together to form a church on August 6, 1629. Today the congregation is a growing and vibrant community. To learn more about the church you can visit firstchurchinsalem.org. Many thanks to First Church for hosting the event!
Our guest speakers include people who have been long-time and new UU voices in Paganism and local voices in the New England region who bring new energy to the mix.
Speakers include:
Shirley Ranck, author of the Cakes to the Queen of Heaven Curriculum, the books Grandmother Galaxy and an upcoming book she is compiling with Jerrie Hildebrand called Born of the Earth: Voices of Unitarian Universalist Pagans.
John Beckett, a Druid graduate of the Order of Bards, Ovates and Druids, the Coordinating Officer of the Denton Covenant of Unitarian Universalist Pagans and a former Vice President of CUUPS Continental.
Gypsy Ravish, owner and operator of White Light Pentacles/Sacred Spirit Products Inc., and Nu Aeon in Salem. She is an Alexandrian, Hereditary and Traditional lineaged Witch, High Priestess WQ of the British Kentish Line in America. Gypsy is also the singer/songwriter of the albums Enchantress and Spirit Nation.
Silver Branch, a band from New Bedford playing traditional earth-centered music including early folk, Celtic, and contemporary Pagan music.
Jerrie Hildebrand, member of the CUUPS Board of Trustees, ordained minister with Circle Sanctuary, Lady Liberty League advisor and Ambassador to the Parliament in Salt Lake City for October 2015.
…And many more to come!
Activities for the weekend will include: visiting area historic venues, a showing of the documentary film "With Love from Salem" by area film maker Karagan Griffith, presentations by all of our speakers, a concert by Silver Branch and an event about the Parliament of the World Religions in Salt Lake City in October 2015. There will also be rituals and workshops.
We are accepting limited workshop proposals. Events must be about one hour long. There will be both indoor and outdoor space available for workshops. Please sent your proposal to info@cuups.org attention to Jerrie Hildebrand. Proposals must be received by June 1, 2015. To submit a proposal you must be registered to attend convocation.
To find accommodations for the weekend visit Salem.org for a list of places to stay in the area. There are no room blocks reserved due to many events going on that weekend in the city. There are many affordable accommodations in town and near by. Camping is also available at Winter Island. The site accommodates RV's and tenting. Salem is closest to Logan Airport in Boston. You can get to Salem from the airport by train, ferry, car or private transportation companies. The Salem Trolley provides transportation throughout the city during daytime hours for a fee and have a stop in front of the church. Parking for the event is available at the city lot near the YMCA or along the streets nearby.
We are hoping to create a Community Meal on Saturday at lunch time at the church. If your group is interested in participating and contributing please let us know by writing info@cuups.org, attention to Niko Tarini. There are also many incredible places to eat nearby.
There will be a program book. Retailers or or groups with upcoming Fall events you wish to advertise are welcome. A rate sheet is available. CUUPS reserves the right to accept only advertising that serves the event and members and is in alignment with the organization's mission and vision. Please write info@cuups.org with attention to Lynn Donovan.
Rates are set up for teens (13+) and adults only. There are no accommodations for young people. Early Registration go rates until May 15 with rates for adults at $75 and $50 teens for the entire weekend. There are also day rates. We accept all major credit cards. Go to http://couup.roundtablelive.org/event-285450 to register! Space is limited so we suggest you register early! If you are not attending the convocation you can order tickets to the concert only.
We look forward to seeing you all in Salem! We are excited to host the CUUPS Convocation!