This blog features articles from a variety of authors who reflect the span and depth of Pagan and Earth-Centered spiritual life within the 1,000+ congregations of the Unitarian Universalist Association. Some essays are from parish ministers, some are from other religious professionals, and some are from laity, all of whom place a large part of their spiritual life in a Unitarian Universalist setting. Because of the diversity of authors, the topics they address will vary enormously as well.
Below are our regular contributors, and we'll also be featuring some guest authors from time to time.
Maggie Beaumont, MA, is a Chaplain Resident in a major metropolitan hospital, a member of the Board of Trustees of CUUPS Continental, a former Dean of Students at Cherry Hill Seminary, a First-Degree Witch in the Assembly of the Sacred Wheel and a teacher/ritualist in the Reclaiming Tradition. She has been a member of the Unitarian Universalist Congregation of Princeton (NJ) and of its affiliated Evergreen CUUPS chapter for more than 15 years, and is also a member of the Unitarian Society of Germantown (PA). She shares an apartment with one cat, three looms, and eight bookshelves full of books.
Amy Beltaine is the sole proprietor of Listen to HeartSong: Inviting you to conspire with divine love to trust and live your HeartSong. As a Spiritual Director Reverend Amy accompanies those who are navigating personal and social transformations, over Skype and in person. She also travels to congregations and communities west of the Rockies offering workshops and Sunday services on topics ranging from "Compost Communion" to "Inanna Journey" to "Sacred Fool". Amy serves as the President of the board of CUUPS continental. Learn more at http://listentoheartsong.org.
Erica Baron was raised as a Unitarian Universalist and was ordained to the Unitarian Universalist ministry in 2008 after receiving a Master of Divinity degree from Andover Newton Theological School.  She dabbled in Pagan spirituality from high school through graduate school, but got serious about pursuing a Pagan path after her ordination.  She has received training from and is an active member of the Temple of Witchcraft.  She currently serves as the minister of the Unitarian Universalist Congregation of the Catskills in Kingston, NY.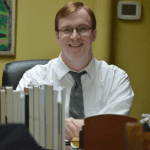 Brian Chenowith is a near lifelong Unitarian Universalist and currently serves the Unitarian Universalist Church of Lexington, KY as their minister.  He is a graduate of Meadville Lombard Theological School and was ordained in November 2015.  Having grown up in a proudly religious naturalist and pagan-friendly congregation, he feels very comfortable in both humanist and earth-centered traditions.  His primary interests are in exploring the impact of ritual, the workings of the religious community, and how we can lead more spiritually grounded lives.  He lives with his partner in Lexington and is enjoying exploring the Bluegrass.  You can find him occasionally blogging at: www.revcheno.com
Catharine Clarenbach's spiritual heart is in the turning of the Wheel of the Year and the myths of many traditions, including those of Wicca and of Christianity. She is to be ordained in the Unitarian Universalist tradition in April 2015 and is a Third Degree priestess in the Stone Circle Tradition of Wicca. Her current ministry is at The Way of the River, thewayoftheriver.com, a website dedicated to supporting and encouraging spiritual seekers.
Allison Ehrman: I go by many names. Mother, wife, sister, friend, technical writer, manager, volunteer, activist, tree hugger. But when I'm enveloped in the sanctuary of a forest, or a beach, or a grassy plain, I'm simply a child again. I was given many inadvertent lessons in earth-based spirituality throughout my childhood. I learned the names, colors, and songs of the birds with my grandfather. I pressed seeds into the warm soil and harvested vegetables beside my father in his garden. I frequently gazed into the starry skies with him after dark, pondering the enormity of the universe and hence the smallness of myself. I tasted wild berries and sumac and excitedly watched doodlebugs defending their formidable ant traps with my grandmothers. Eventually, I walked away from the uncomfortable pews and church buildings of my youth and found my spiritual fulfillment entirely within the glory of nature. Without any knowledge that other people had done so for centuries, I cast circles aligned with the cardinal directions and celebrated my own rites of passage. I established family rituals for the solstices, equinoxes, and cross-quarter holidays. We also find peace and inspiration in the seasonal cultivation of our garden. Today I take my sons into the forest and teach them everything that I have learned, hopefully including a deep and lasting reverence for the earth around them. When people ask what it is I believe, who I am, many names come to mind. Unitarian Universalist, Scientific Pantheist, Pagan. For me, they're all one in the same.
Elizabeth Fisher is a professional writer, the author of the UU Women's Federation course Rise Up and Call Her Name: A Woman-honoring Journey into Global Earth-based Spiritualities and a variety of other publications. She received the CUUPS Margaret Fuller–Henry David Thoreau award for furthering understanding of earth-centered philosophy, is included on a list of the Thirteen Most Influential People in Women's Spirituality, and is on the advisory board of the Goddess Museum of Art and Culture in Orange County, Ca. Over the years since 1982, when Liz became a Unitarian Universalist, she has been a leader in the UU Women and Religion Movement, a CUUPS regional ritual group, and a variety of faith-based social justice movements.
Valerie Freseman is a native New Yorker and a member of the 4th Universalist Society in Manhattan. She has been active in the NYC Neo-Pagan Community for twenty years as a Priestess and organizer for NYC Pagan Pride. She received her MDiv from Union Theological Seminary in May of 2014, where she was one of the student leaders behind the seminary's decision to divest from fossil fuels in 2014. Currently, she is an aspirant for Unitarian Universalist ministry and the Youth Program Coordinator for two Bergen County, NJ Unitarian Universalist congregations.
Nathan Hall lives in South Florida with his partner and two cats. He is a CUUPS member and a member of the Order of Bards, Ovates and Druids, following the Bardic Grade. Find him on his blog thearrivalandthereunion.com and on twitter @oididio.
D.C. McBride: A Unitarian-Universalist since 2009, Dan McBride is a practicing Devotional Polytheist, a member of Ár nDraíocht Féin: A Druid Fellowship, and the Coordinating Officer of UUCB-CUUPS.  His spiritual interests are in Neo-Pagan religions and Irish folklore and mythology, as well as in inter- and intra-religious dialog.  Outside of the grove, he enjoys technology, hiking, camping, skiing, history, photography, and adventuring with his wife.  A fifth-generation downstate New Yorker, Dan traces his roots back to the Italian region of Calabria and County Waterford in Ireland.  He currently resides near the confluence of the Susquehanna and Chenango rivers in Binghamton, NY, where he makes his living as a technology professional.
David Pollard recently stepped down after a four year stint as CUUPS Executive Director and had previously served on the CUUPS Board of Trustees from 1995-2001 and 2007-2014. He has been a Unitarian Universalist since 1989 and a member of CUUPS since 1990. He was also a founding board member of the Green Party of Texas and served as a National Committee member for the Green Party of the United States from 2002-2006.
Meghann Robern is the Sabbatical Minister for the First Unitarian Universalist Church of Nashville. She is in ministerial fellowship with the UUA and received her M.Div. from Claremont School of Theology. Before she followed her lifelong call to ministry, she worked in office administration, event organization, the music business, the film/tv business, and the non-profit sector. Her favourite holiday is the Winter Solstice. You can find her portfolio at http://bodilyintegrity.com.