"Universalism believes in the universal revelation of truth. It can not be shut up in one mind, one book, or one personality, but streams from the stars, springs from the earth, grows great in the heart of the whole of humanity." — Clarence Skinner
It is one of the great gifts of Unitarian Universalism, as it has evolved to be today, that our religious community supports and encourages people of different spiritual paths and sustaining beliefs not to just gather together, but to actively learn from each other. The promise of our community, of our presence in the world, is bigger than any one of us.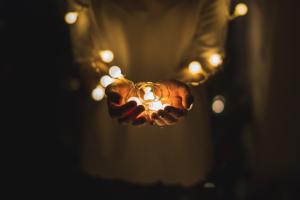 What does learning about someone else's beliefs, their hopes and dreams, as well as what helps them navigate their lamentations, what does knowing this person teach me about myself? What about when it's someone who is a part of my covenanted community, whom I know shares my values? How does living into covenants, the promises we make to each other about how we will be together, make me better human being outside my community as well as within?
Listening to someone else, to learn the stories that make up their life, to learn about what sustains them in good times and in bad, is one of the most precious and profound gifts we can offer. And that same deep listening and learning is also one of the most important gifts we can receive.
It is one of our great purposes to teach each other how to be better human beings, so that we many find a beautiful, expansive harmony, as opposed to forcing everyone to sing the same melody in the same limited range, or to offer no boundaries at all, leading to a painful cacophony that offers nothing to the world.
Consider the gifts you have received from people in your life, and perhaps the opportunities you have missed. During this advent season in the northern hemisphere — in the waiting for the baby to be born, in the waiting for the return of the light, in the waiting for the turning of the year — consider what peace awaits you in your contemplative silence in intentionally receiving the gifts of this blessed world, by listening to those around you and beyond.
May it be so.