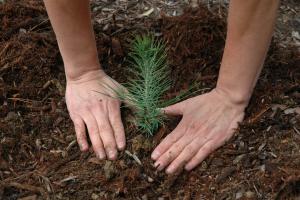 As Ostara approaches, my elder, the Rev. Foxxy (Sher) Pullen prepares the seeds for her garden. I think about this season and what this means. It is a commitment to grow a garden, especially from seed. One that we take from March until early October. We commit to helping Mother Nature nurture these plants. I too will be working my garden again this year.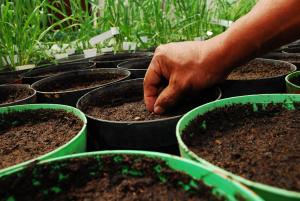 I never thought about spring as a commitment. It really did not occur to me until the Unitarian Universalist Congregation at Montclair, NJ, where I attend, released the Soul Matters theme for March – Commitment. This had me thinking.
We commit ourselves to many things. Some for a short period each year such as our gardens. Others last longer in particular a job or volunteer work. Some maybe a lifetime such as a marriage and some friendships. Many Pagans begin their path with a commitment to study a year and day. However, my elder says and I agree that you should never stop learning.
I have made many commitments throughout my life already. Some are minor ones such as growing a garden each year. Others important such as attending and graduating from college and of course becoming a member of my congregation.
Some commitments I follow up with each month. I lead UUCM Sacred Wheel CUUPs and my congregation's Communications Team as well as volunteering on the Tech Team and Sweat Team.
One project I committed myself to this year was assisting the Rev. Scott Sammler-Michael, senior co-minister at UU Montclair. I, and other volunteers, prepared the sanctuary to professionally livestream the Sunday services. We mounted the cameras, ran cable and wires through the building.
Other commitments are weekly, such as assisting my elder teach our Magick 101 class. And most recently, helping lead UU Montclair's Connections Café Team each week.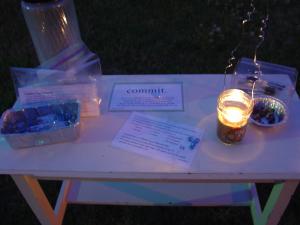 During this pandemic, the commitment to Sacred Wheel changed slightly. We went from meeting in person for ritual to quickly figuring out how to do so through the Zoom platform.
It was trying at first; people were not used to the virtual circle. Mishaps occurred. The meditation video would play but the sound did not. Quarters went out of order. After a while the kinks were worked out, people realized this was not going to be just a month or two and our sabbat celebrations and events became more fulfilling.
We committed to adding a monthly healing circle that people really seem to appreciate. Additionally, each month we host at least one workshop or discussion event as well as the sabbat celebrations. We often stay after the events and discuss new ideas or just chat while building friendships.
Twice recently though a question came up during these virtual gatherings. Once in the Rev. Amy Beltaine's weekly online Spiritual Potluck, a commitment she made during this pandemic, and again with my elder Foxxy, after our Magick 101 class. Both times, I was asked, "what deity do you work with." While I committed myself to the Druidic path about 10 years ago, I never really focused on the specific deity, something I currently decided to focus on.
When I think of it, I connect with the goddess Brigid, although I never made a commitment or dedication to her. As a writer and an occasional poet, though it only makes sense to me. During this pandemic, I recently wrote three related poems, one of which I committed myself to recording on video for my congregation's virtual time capsule.
Of all the commitments that I have made though, the most important is the one right now for me to work on is my self-confidence and to break my fears. This is a task my elder has also committed to help me overcome. There is not a time that has gone by that she has not caught me when I fell back on this one. It is a work in progress. I have made great achievements such as heading a group and leading a ritual to smaller ones as speaking up for myself.
Recording that poem was a huge step. To do something that the whole congregation will view and knowing that it will live in the virtual plane for all to see. It had me a bit nervous and questioning how well I did or did not do.
Most of my commitments come as volunteer work. It is the greatest feeling to do something good for others, for their benefit. Something that I learned from Foxxy and her late husband, Hermotimus "Herm," leaders and co-founders of Three Fires Grove, a Pagan learning community.
About 20 years ago, they made commitments to teach the Pagan community free of charge. This inspired me with the creation of UUCM Sacred Wheel CUUPs to not only gather on the sabbats, but in addition, to teach one another guiding each other on our paths.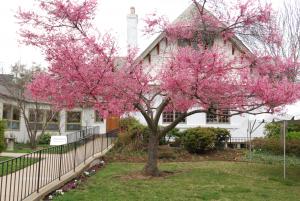 Currently my UU congregation made a commitment to work on the process of adopting the eighth principle. It reads, "We, the member congregations of the Unitarian Universalist Association, covenant to affirm and promote: journeying toward spiritual wholeness by working to build a diverse multicultural Beloved Community by our actions that accountably dismantle racism and other oppressions in ourselves and our institutions."
Many of us have committed to seeing this through by forming groups including ARE (Allies for racial Equity) and BLUU (Black Lives of Unitarian Universalism) and holding special presentations. Additionally, by educating ourselves through Meadville Lombard's Beloved Conversations courses and book study groups led by Sammler-Michael.
So as spring arrives on Saturday, March 20, think about what you will commit yourself to, what will help you grow and blossom.
See also: Astral Travel – Not Mind Games; No Need to be Afraid of the Dark