Franklin Graham is at it again. Here's his response to the killing of four marines in Tennessee by an American Muslim: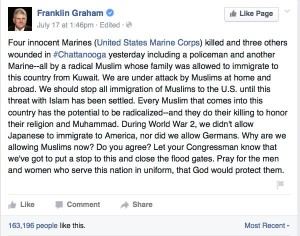 It's bad enough that Graham is ranting against the wrong threat — more Americans have been killed by white supremacists than Muslim terrorists since 9/11 — and that's not including the three young Muslim-Americans killed by an atheist in Chapel Hill, the mass murder of 24 movie-goers in Aurora in 2012, or the two (which could have been five) killed by a white guy in Maine this week. He's throwing gasoline on the fire of people like Robert Doggart:
Doggart, via an FBI wiretap and conversations with an FBI informant, had revealed his detailed plan to travel from his home in Tennessee to New York state to attack the people of Islamberg, a community of approximately 200 black Muslim Americans near the Pennsylvania border. He viewed this Muslim community, which right-wing media outlets have long demonized, as a threat to America.
Please, Franklin, we don't need to incite the all-too-many racist, jingoistic, xenophobic citizens of this country — who have access to lots of guns. If only you would use your popularity for good and not evil, can you imagine how much better the world would be?
I wish you could be more like American Muslims. While you fill social media with rant after inflammatory rant, American Muslims plant seeds of peace and interfaith solidarity in an attempt to make this world a better place:
According to Al-Jazeera, three Muslim organizations—Muslim Anti-Racism Collaborative, the Arab-American Association of New York and Ummah Wide—have created the "Respond With Love" campaign to raise money to help rebuild those churches burned since the massacre last month.
Please, Franklin,
listen
to your apostle Paul:
Do not let any unwholesome talk come out of your mouths, but only what is helpful for building others up according to their needs, that it may benefit those who listen. And do not grieve the Holy Spirit of God, with whom you were sealed for the day of redemption. Get rid of all bitterness, rage and anger, brawling and slander, along with every form of malice. Be kind and compassionate to one another, forgiving each other, just as in Christ God forgave you.