I remember exactly where I was and what I was doing when the planes hit on September 11th, 2001, as I'm sure most Americans who were alive at that time do. What I couldn't know then was how much those events would shape my life throughout the 2000s and continue to shape my life today. As an Iraq war veteran, there is so much I could write about our nation's actions in the aftermath, which ranged from appropriate to shameful, but that's not for today.
Today is a day of reflection on those we lost that terrible day and on those lost or injured in the years since.
You will never be forgotten.
On a related note from the #WTF files:
There is nothing wrong with Mike Huckabee posting a 9-11 memorial pic to his public Facebook page. However, using is as a campaign message is something else entirely.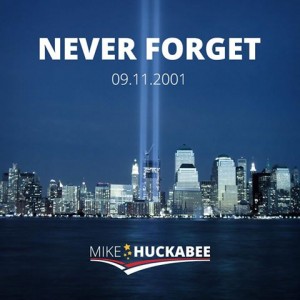 (Credit: Mike Huckabee's public Facebook page)
It's thoughtless at best, disrespectful at worst, and clueless either way.
But what else can we expect from someone who "Stands with Kim" and thereby supports Christian elected officials using their government offices as bully pulpits to deny others their civil rights?