By now, most readers of the atheist channel here at Patheos are aware of the Harris County, Georgia sheriff who took a public stand against "political correctness" by buying and posting a sign which makes it clear that in his opinion, if you are not his flavor of Christian or willing to pretend to be, then you simply aren't welcome in his county. This sign was paid for by him but affixed to the public property at his sheriff's office. This is problematic for many reasons which have been very well covered here at Patheos by the "Freethought Now!" blog produced by blogger and attorney Andrew L. Seidel. Mr. Seidel writes and advocates here on behalf of our friends at the Freedom From Religion Foundation and since you can read his post for yourself, I'm not going to restate what he has already stated so well.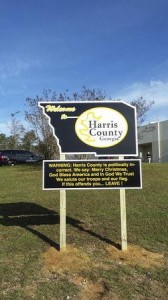 (The sign as seen in an undated handout picture courtesy of the Sheriff's Office.)
Instead, I wish to describe a more personal encounter. I belong to a Facebook group which by some bizarre coincidence includes people who know this sheriff very well and who almost entirely and exclusively applauded his "courageous" actions. I've never understood why it takes "courage" to claim to be a Christian in a country that is 80 percent Christian and that is infested with privileges for Christians that are denied to others but that's a piece for another day. Anyway, I made a very mild post pointing out that elected government officials who clearly promote one religion over others are not following the Constitution which since this forum was exclusively military and veterans, we had all sworn to uphold. This was immediately followed by a flurry of posts accusing me of "attacking" Christianity and of attacking them personally and before they were done, you would have thought that I personally was the commanding general in charge of running the (fictional) War on Christmas. This was from people who I have known in real life and who have known me for more than 20 years.
It makes me wonder what is in store for the freethinking people of Harris County. Sheriffs wield a tremendous amount of power and it is all too easy to imagine that a powerful bully who would affix such a belligerent and obviously unconstitutional sign is the sort of person who would take steps to enforce his attitude. Want to display an atheist bumper sticker on your car? Better be prepared for tickets. Want to openly serve gays in your place of business? I hope you are prepared for a host of zoning and code violations. Want to wish your customers Happy Holidays? Better be prepared for the backlash not only from aggrieved Christians but from those sworn to protect even the likes of you.
According to Title 16 of the Georgia State Code, it is illegal to place personal signs on public property but what's violating the law when you are taking a stand for Jesus?