In a fine example of religious tolerance, a civic-minded atheist group, Orange County Atheists of Orange County, Texas, had their Adopt-A-Highway signs vandalized for the second time.
Here is a photo history (with thanks to Joshua Hammers for providing the photos).
A sign in its intact state: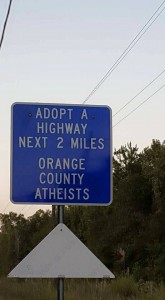 After the first vandalism incident: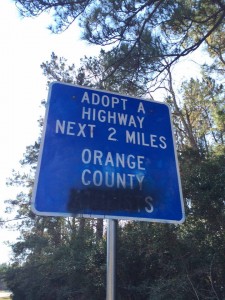 This is yet another reminder that it is not enough for the Christian majority to enjoy and demand privileged status, benefits, and advantages  that are denied to the rest of us. They want to remove even this benign, gentle reminder of our presence in a community because acknowledging that we can do good works without pressure from the scary guy in the sky goes against their beliefs.
Thank you Orange County Atheists for your service to the atheist civil rights movement and to your community!