By now, the entire nation is aware of yet another mass shooting, this time at a social services center in San Bernardino, California on December 2, 2015.
Today we are learning a little information about the identity of the shooters, although not much is known yet about their motives, including whether or not religious faith played a role. Interviewing the two shooters is not possible, as both were killed in a shootout with police.
Surprisingly, one of the shooters was reported to be a woman, Tashfeen Malik, the wife of the other shooter, Syed Farook. Farook and Malik are reportedly the parents of a six-month-old baby. Women are almost never the shooters in any mass shooting event, and when they do use guns in any shooting, the shooting is almost always a matter of personal defense. Of the thirteen worst mass shootings in American history, not one was committed by a woman–until now.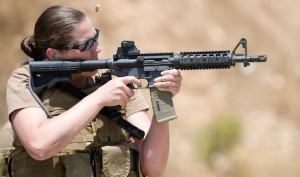 American women are conditioned from a young age to expect to have to defend themselves but are not trained to think like aggressors. Women are also a fast growing segment of the gun owning and target shooting population, and yet even that growth is defensively centered towards protecting one's person and property.
Even military women, who are trained in weapons and combat tactics and have served effectively in combat and earned medals for heroism, more often find themselves the victims of aggression rather than as aggressors. For example, when women deployed to Iraq, the biggest threat women faced was not from an outside enemy, it was from their fellow service members in the form of sexual assault.
Early reports indicate Malik may not originally be from the United States and as of this writing, the general consensus seems to be that she hails from a predominantly Muslim part of the world. This makes her aggression even harder to understand as most images of Muslim women held by western women leave the impression of oppression, not aggression.
What influence could possibly turn a young mother of an infant into a mass murderer? Is it religion? Mental illness? Was she being bullied and controlled by her partner? My original assumption was that this tragedy was motivated by religious faith as so many of these things tend to be but in her case, the situation may be more complicated than that.
Unfortunately, it is unlikely we will ever know.
(My condolences to those who were affected by this horror. I hope as the days and weeks go by, you find some measure of peace and comfort.)