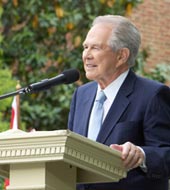 There are a lot of issues worthy of discussion and debate concerning the upcoming deployment of women into expanded roles in military combat jobs but anything that comes out of Pat Robertson's mouth isn't among them.
On a recent edition of the 700 Club, Robertson equated women who wanted to serve in combat with a masochistic bondage fetish and that since he's "been there and done that" he knows combat "ain't something for a woman".
How does he know that? Back in the 1980s when he was running for president, he made the claim that he was a "combat Marine" who served in the Korean War and his latest statements imply he is still claiming he saw combat. However, his claims were pretty thoroughly debunked even back then. Military records do indeed seem to say he served but they do not support any claims of combat service and indeed he may have taken steps to avoid combat.
There is no dishonor in military service that doesn't include combat but there is dishonor in lying about it, whether to score a cheap misogynistic point in the modern era or to score cheap political points in a decades past candidacy.
(photo credit: patrobertson.com)