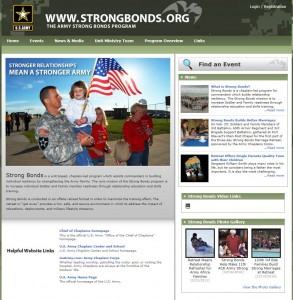 The Army's Strong Bonds program "is a unit-based, chaplain-led program which assists commanders in building individual resiliency by strengthening the Army Family. The core mission of the Strong Bonds program is "to increase individual Soldier and Family member readiness through relationship education and skills training. Strong Bonds is conducted in an offsite retreat format in order to maximize the training effect. The retreat or "get away" provides a fun, safe, and secure environment in which to address the impact of relocations, deployments, and military lifestyle stressors."
All of the above information was extracted directly from the Strong Bonds website and the retreats they offer are multi-day sessions in nice hotels in nice locations with government funded meals and recreational opportunities.
This has to be an expensive program at which government dollars are being used to fund these recreational retreats for service members and their families. I'm not necessarily opposed to rest and relaxation retreats for service members but because these are sponsored by the chaplaincy program and most chaplaincy programs have an overtly Christian bent, I'd really like to know if this program is Christian or otherwise specifically religious in nature. I've checked and as far as I can tell, there are no equivalent programs that are specifically secular in nature and my concern is that an expensive benefit may be available only to religious Soldiers or to those who will engage (or pretend to engage) in religious activities.
Since I am no longer a Soldier, I cannot attend and check this out for myself as these retreats are open to only Soldiers and their families.  I would love to hear from anyone who has attended one of these retreats who can tell me just how deep down the religious rabbit hole these things go.
I'm at nogodblog@gmail.com .
(Photo credit: Strongbonds.Org)
Stay in touch! Like NoGodBlog on Facebook: