A few days ago, the world learned that Carrie Fisher passed away from complications following a massive heart attack she endured on an international flight. As most know, Ms. Fisher is probably best known for her iconic role as Princess Leia in the Star Wars franchise but she also has numerous other acting and writing credits for which she has received praise and even acclaim.
I learned of her death when I was browsing a news site article which in addition to discussing Ms. Fisher's life and career, also prominently featured the following advertisement: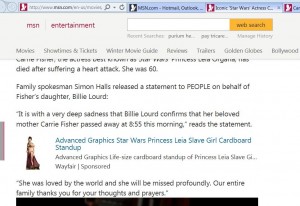 I get it that Princess Leia's gold bikini is something of a cultural icon in certain spaces but is an advertisement for a cardboard cutout of Princess Leia in her "slave girl" costume really appropriate for an article announcing the death of the actress who portrayed her? It just strikes me as really disrespectful and it saddens me that of all Ms. Fisher's achievements, this is what she will be best remembered for, in spite of the big dose of fat and age shaming that came later when she couldn't stay 25 forever.
I just think a beloved cultural icon, who was also an outspoken advocate on mental health issues and a terrific example of a woman living her life on her own terms, deserves better than this. Condolences to her loved ones.
(Author's Comment: I'm aware that cookies on computers allow for ads to be targeted to specific users based on their searches; however, I was using a computer that had such features disabled, indicating this ad was delivered for a general audience and not targeted specifically towards a person. I also have never conducted a search on any computer for Princess Leia's gold bikini. )