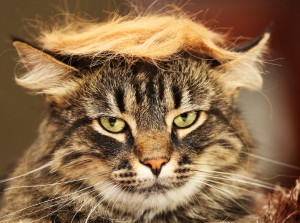 A guest post by Frank Zindler.
During the Republican primaries and the general election campaign of 2016, Donald Trump's outré behavior and comments caused many careful observers and analysts to notice that there was something particularly unusual in his public statements concerning Russia and its strongman Vladimir Putin. Trump never had anything but praise for Putin, and Putin was reciprocating in a very flattering way. Then it became apparent that Trump's bucket list of "things to do" was identical to Putin's. You didn't have to be a rocket scientist—not even a brain surgeon—to suspect that Trump was somehow being controlled by Putin. Many conspiracy theories were formulated and they festered in our brains as we continued to watch the scene and suffered in silence. No one wanted to risk the embarrassment of being tarred with the "conspiracy-theorist" brush.
I was among those who early on suspected that Trump had somehow been compromised by Putin, but I too kept silent except with closest friends. But the possibilities of the situation were too important for me to go on without attempting to test various hypotheses. Before I could decide on actual plans for such investigations, however, the election was rapidly approaching and I had done nothing more than notice vague patterns in the events—but I had nailed down the fact that Trump suffers from Narcissistic Personality Disorder and needed to be understood as a madman.
And then it happened. Eleven days before the election, on October 28, 2016, FBI Director James Comey sent a letter to Congress saying the FBI was investigating additional emails possibly of relevance to Hilary Clinton's email case. The first thought that popped into my head was that the Russians had compromised FBI Director Comey as well as Trump. What an outrageous idea! As I stewed and fretted in indecision, the case of Trump's choice for National Security Adviser burst into my awareness.
General Michael Flynn was formerly the director of the Defense Information Agency (DIA) but he was fired in 2014 by President Obama due to his wild and radical views—views insubordinately at variance with Obama's stated policies relating to Russia. Before the release of Christopher Steele's 35-page Dossier on Trump, the homeland security expert Malcom Nance (The Plot to Hack America: How Putin's Cyberspies and WikiLeaks Tried to Steal the 2016 Election, Skyhorse Publishing, 2016, pages 54–57) had this to say about Flynn:
"General Michael Flynn. In 2015, retired Army General and former Director of the Defense Intelligence Agency, Michael Flynn, attended a Russia Today (RT) anniversary gala, where he sat at a table with Vladimir Putin. Since retiring from the Pentagon, Flynn has become a regular contributor for RT, the state-sponsored and Kremlin-controlled news outlet. Flynn has been critical in recent years of President Obama's foreign policy, especially during Hillary Clinton's term as secretary of state. He was forced to retire after clashes within the intelligence community over his vision for the DIA.

"Most surprisingly, Flynn has also expressed desires to develop a stronger relationship with Russia and has been an adviser to Donald Trump and his 2016 presidential campaign on matters of national security. Flynn accompanied Trump on his CIA intelligence briefings before the election. [If I am correct about trump, this means that Moscow has an ear in the CIA also!]

"…General Flynn is proud of his associations with Russia. In an interview with the Washington Post's national security writer Dana Priest, he bragged about being the only US officer allowed into the headquarters of Russian Military Intelligence, the GRU…

"PRIEST: Tell me about the RT relationship?

"FLYNN: I was asked by my speaker's bureau, LAI. I do public speaking. It was in Russia. It was a paid speaking opportunity. I get paid so much. The speaker's bureau got paid so much, based on our contract.

"PRIEST: Can you tell me how much you got for that?

"FLYNN: No."
Malcom Nance sums up Flynn's relationship with Putin:
"Though Flynn said he was standing up for the principles of the United States, to the Russian public, having the director of defense intelligence seated at the right hand of the most powerful ex-director of the KGB implied that the old spymaster had him under Putin's "roof" … in America it would translate to 'He's my bitch.'"
When it appeared that both the DIA and FBI had been compromised by Russia, I did a bit of online research on other key Trump aides. What I found out was frightening—and my fear has only intensified after the release of Christopher Steele's Dossier on Trump. In later posts I shall attempt to assess the veracity of the Dossier and see to what extent it fits into what we knew previously.
Next: Trump's Kremlin Crew.
Frank Zindler is the past interim President of American Atheists, a member of the American Atheists board of directors, the chief editor of American Atheists Press, and an esteemed academic and activist.
Photo credit: Jill Carlson (jillcarlson.org); https://flic.kr/p/w5fe2F
Stay in touch! Like NoGodBlog on Facebook: