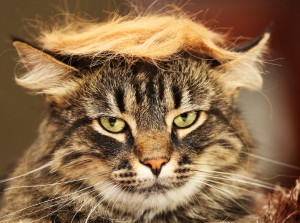 A guest post by Frank Zindler.
A MADMAN COMES TO POWER PART 4: TRUMP'S KREMLIN CREW
Once is happenstance.
Twice is coincidence.
Three times is enemy action.
—Ian Fleming
In Part 3 of this series of blog postings I presented strong evidence implicating not only Donald Trump's participation in a pro-Putin conspiracy, but also the high likelihood that his National Security Advisor General Michael Flynn was involved as well. According to Ian Fleming, this could just be a coincidence—if that were all there was to it. But it isn't. Even before the release of the Joint Intelligence Report by the combined intelligence agencies of the United States on 6 January 2017, MUCH more was known about Trump and his close associates and Cabinet nominees. Malcom Nance, in his book published before the 2016 election (The Plot to Hack America: How Putin's Cyberspies and WikiLeaks Tried to Steal the 2016 Election, Skyhorse Publishing, 2016) had lots of important information not only about Trump and Flynn, but many other Trump associates as well.
I shall begin with the lawyer Paul Manafort, who presently is being investigated by a Congressional Committee. (There is great fear that Trump may be able to shut down that investigation.) According to Nance, Manafort has been an advisor to Trump since the mid-1980s, and he became leader of the "Torturer's lobby"—representing some of the most awful dictators in the world, including Mobutu Sese Seko, Ferdinand Marcos, and Angolan warlord Jonas Savimbi. According to Nance
"Manafort took on the unenviable task of replacing Corey Lewandowski. Initially it was smooth sailing for Manafort before he was removed as the chief advisor. Then the revelations about the Ukraine deals surfaced. Manafort was coming under fire for his work with past clients in Ukraine, including work for Viktor Yanukovych, in a 2010 campaign. …Manafort worked for Serhiy Lyovochkin, former chief of staff to Yanukovych. Also part of the focus on Manafort relates to his involvement with shell companies that he has profited from." [page 50]
Nance details so many nefarious details about Manafort, that several postings would be needed even to summarize them. It may be noted, however, that around four hundred ledger pages show that Manafort was paid $12.7 million in cash or untraceable investments by the Ukrainian President from 2007 to 2012. It is claimed that Manafort never registered his work as a foreign agent as required by law. It seems clear that Manafort is the source of Trump's hands-off policy with regard to Russia and the Ukraine.
Manafort figures prominently in the 35-page Trump Dossier compiled by British agent Christopher Steele, and we will have lots to say about him in later postings.
Nance discusses another Trump associate who currently is off everyone's radar:
"Howard Lorber is the Trump campaign's economic advisor. The president of Vector Group, he is a Trump campaign donor and investor in Russia. He's given $100,00 to the "Trump Victory fund." When Trump went to Moscow in 1996 to consider branding projects, Lorber worked to help Trump open a building in Moscow, but the venture failed. Visits with Lorber include one in November 1996. The trip focused on a project under development in Moscow like Ducat Place." [page 52]
Another Trump associate presently under investigation (at least I don't think Trump has been able to shut the investigation done yet) is Carter Page—who also will be revisited when I discuss the Trump Dossier. Until then, I shall simply quote a few details from Nance's book:
"Carter Page joined Trump's campaign in March 2016. In July 2016, Page went to Moscow and delivered a series of speeches on establishing a better relationship with Russia. His recommendations included easing of economic sanctions imposed after the invasion of Crimea in 2014. As the Trump campaign talks about ending TPP and other trade deals, the unelected candidate's spokespeople are out inviting business with Russian partners, especially in industries that are known to have crime bosses and Russian mafia ties. [emphasis mine] … Carter Page, now on the Trump campaign team, used to work in the Merrill Lynch's Moscow office and has personal investments in Gazprom, a Russian state oil conglomerate. He told Bloomberg that his investments have been hurt by the sanctions policy against Russia over Ukraine. He has characterized the US policy toward Russia as chattel slavery." [pages 52-53]
If "three times is enemy action," and we have already identified four Trump associates deeply implicated in hanky-Putin-panky, what shall we call it when we find a fifth—an invasion?
Conspirator number five is Richard Burt, the former US ambassador to Germany under Ronald Reagan from 1985 to 1989. According to Nance,
"Mr. Burt is the Chair of the advisory council for the National Interest. He joined the Trump campaign at the request of Paul Manafort. Burt sits on the board of the largest commercial bank in Russia, Alfa-Bank. He also has a role in an investment fund that controls Gazprom, the same company where Carter Page has deep investments. [Apparently Rex Tillerson, Secretary of State nominee also is somehow involved there also.] He has been a vocal critic of the need for NATO and has written position papers on the future of Russia-Ukraine relations. The Nation speculated that Richard Burt wrote Trump's April 27, 2016 Russia-friendly speech on foreign policy."
Don't go away! There are two more!
Born in Moscow in 1947, Dmitri Konstantinovich Simes moved to the US in 1973. He is the publisher of the National Interest, the journal in which Richard Burt published. Once again, Nance tells us,
"The Center for the National Interest is close allies with theh Institute for Democracy and Cooperation, a Russian-funded organization led by Adranik Migranyan. It was revealed in State Department documents leaked via WikiLeaks that Migranyan was given the position by Russian Foreign Minister Sergei Lavrov. Migranyan has called Russian president Putin "Russia's Reagan" and has advocated for an ease of sanctions on Russia." [page 54]
Last but probably not least, is Michael Caputo, who became Trump's adviser for the New York primary in 2016. Caputo worked for Gazprom Media, and has done work under contract to improve Vladimir Putin's image, according to Malcom Nance.
Next: Trump and the Russian mob
Frank Zindler is the past interim President of American Atheists, a member of the American Atheists board of directors, the chief editor of American Atheists Press, and an esteemed academic and activist.
Photo credit: Jill Carlson (jillcarlson.org); https://flic.kr/p/w5fe2F
Stay in touch! Like NoGodBlog on Facebook: