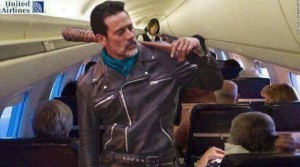 Yesterday, a seemingly Christian man, in another school shooting, decided to gun down his wife at her job at an elementary school while also killing one child and critically injuring another and then taking his own life. The location of the slaughter was chosen because although she was reportedly hiding from him, he knew she would likely be there and would be defenseless.
On the same day, United Airlines became the target of news reports and social media campaigns after a video aired that depicted the violent removal of a paying, seated customer off a plane operated by one of United Airline's regional carriers in order to make room for airline employees who needed to travel to make a flight they were to crew.
Today, one day later, one of these reports is still at the top of the news cycle while the other is already being relegated to the old news pile and by tomorrow, will be forgotten.
Apparently there was something about the incident with United that resonated strongly with Americans, at least those Americans privileged enough to travel by air. United Airlines' actions and subsequent response are certainly horrible and they have entirely earned every bit of bad publicity that has come their way. This is the story that continues to dominate the news cycle.
The other, yet another example of combining guns with toxic masculinity and religiosity, is just another shooting and a daily occurrence in the United States. Even the fact that this occurred in a school is not so unusual anymore and these days; if a shooting doesn't involve a dozen or more victims or wasn't perpetrated by a Muslim, it's practically business as usual in America and unworthy of multiple days of top featured news.
This is a business I deeply wish America would get out of.
(Photo credit: Facebook meme)
Stay in touch! Like NoGodBlog on Facebook: