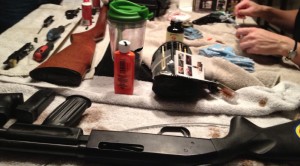 Another day, another horrific gun attack in America, this time on members of Congress who were conducting an early morning practice in Alexandria, Virginia for an upcoming Congressional baseball game.
The injured will be in the thoughts of the persons behind this blog but there (obviously) will be no praying here.
There have been prayers said over the thousands of people injured and killed in gun attacks and yet these things keep happening because prayer is useless and not a substitute for real action.
People who pray do so under the delusion that there is someone listening who is poised to take action if enough people beg him to in a manner pleasing to him but of course nothing fails like prayer.
There is another dimension to consider too, as pointed out by Jamila Bey on Facebook: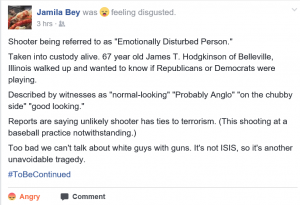 Shooter being referred to as "Emotionally Disturbed Person"

Taken into custody alive. 67 year old James. T. Hodgkinson of Belleville, Illinois walked up and wanted to know if Republicans or Democrats were playing.

Described by witnesses as "normal-looking" "Probably Anglo" "on the chubby side" "good looking".

Reports are saying unlikely shooter has ties to terrorism. (This shooting at a baseball practice notwithstanding.)

Too bad we can't talk about white guys with guns. It's not ISIS, so it's another unavoidable tragedy.

#ToBeContinued
So basically, because there were no brown Muslim people involved, it can't be a terrorist attack and because there was no black people involved, it is a tragic act by someone who is emotional disturbed rather than a criminal act by a thug.
Prayer isn't the only thing that is failing us.