by Laura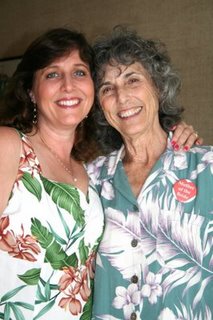 I thought about my mom. I thought about if my daughter was told she was clinically depressed, I would want her to tell me so I could love her up and help her. But I had been estranged from my mom for so long. She would call me about every 3 months just to make sure I was okay. The calls were always hard on both of us. If I was feeling especially pious, I would usually end up arguing with her and saying some negative thing to her. But most often we were just sad and talked about nothing important. I hardly talked to her about her grandkids because it was too painful for her to hear. Almost every time we spoke, I would get off the phone and beg my husband, "Can't we handle this situation with my moms differently. I mean, they hate God because of us. We are not being good witnesses for Christ here. Why can't we just love them like Jesus loved the woman caught in the act of adultery?" He would respond that Jesus said to the woman caught in adultery to "go and sin no more". We had basically said that to my moms regarding their relationship but they still lived together, still loved each other, still stood up for women's rights and equality for everyone. They were a threat to our children in our eyes. Who knew what they might say to our kids? After most conversations with my mom, I would argue with Dale about keeping our kids away from her and then I would back down and let him have his way figuring that he knew what was best.
And I would cry. I missed my mom so much. It was horrible. I would fight with myself inside over the feelings I had toward my mom( I loved her and missed her deeply) and the responsibilities I felt I had toward my husband (to be submissive to his will) and my kids ( to protect them from evil influences which I considered my moms to be because of their lifestyle). Eventually my Christianity would win out and I would again put up the righteous wall that I felt was necessary to protect my children. When I look at it now, I am amazed that I let my husband do my thinking for me like that but it seemed perfectly right and reasonable at the time.
I was alone in the house, just diagnosed with something that terrified me and I knew what I wanted. I wanted my mommy!!!
I called my mom and shared with her the news my doctor had given me earlier that day. I told her how ashamed I was, how scared and how I felt like a total failure. She did what any loving mom would do when their child is hurting. She encouraged me, told me that there was nothing horrible about being depressed, that it was okay for me to take the medicine, that it would probably help if I talked to a counselor and above all, that she loved me and that everything was going to be okay. What a rare opportunity for my mom to be allowed to support and help her daughter in a time of need and pain.
A while before my diagnosis, I had gotten together for lunch with a dear friend of mine who happened to be a pastor's wife. She and I had a long friendship and I respected and loved her very much. I had been talking with her about my husband's strange actions and ideas and how it all was affecting me. At this lunch meeting, my friend shared with me that she had been seeing a therapist for some stuff that was hindering her in her life. I was stunned! I mean, how could she, this pastor's wife, this Godly woman who was looked up to by so many, need a therapist? She was a Christian, for crying out loud! I was very judgmental toward my friend but kept my thoughts to my self. We talked about journaling and how she thought that it would really help me to be able to work through all the pain I was experiencing. Then she dropped a bomb on me and told me that she was taking medication to help with her depression!!! OMG!!! This was almost too much for me. I just could not believe my ears! Again, the same things went through my mind. How she must be some kind of weakling, a failure that hides it well, a fake on the outside. I am ashamed to confess how amazingly judgmental I was all those years I lived in the Patriarchal/Quiverfull world.
I went home from that lunch really thinking less of my friend than I thought possible. I am sickened now at my attitude toward her but then I felt totally justified.
After my diagnosis, I remembered my attitude toward my friend and I called her. I confessed to her how horrible and judgmental my thoughts had been toward her after that meeting and I apologized and asked for her forgiveness. She was wonderful and forgave me instantly. She has been such an amazing support to me through all my trials since I left my husband. She told me once that she always thought of me as a butterfly that had been dragged through the mud. I had no idea that she saw me that way but I think it is a pretty accurate description.
I looked through my bible searching for the answer to whether or not I should take medication. Every verse I came across seemed to be God telling me He would take care of me, I needed to trust him and so forth. So I wouldn't take the pills. Our doctor friend confided in my husband that she thought half of our problems would disappear if I would just take the meds. But I would not. And things were horrible…
Laura's Story:
Part 1 | Part 2 | Part 3 | Part 4 | Part 5 | Part 6 | Part 7 | Part 8 | Part 9 | Part 10 | Part 11 | Part 12 | Part 13
More from Laura: