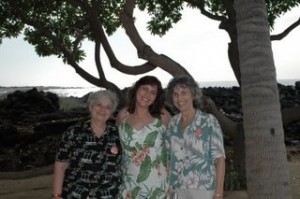 by Laura
I was raised by two loving feminist women who happened to love eachother. My two moms never pushed any kind of religious view on me. We were culturally Jewish but we celebrated every holiday out there. Christmas, Chanukkah, Easter, Passover. We were all about being happy and celebrating our love for each other.
As a child I always had a deep fear of death. I couldn't wrap my head around what happened to you once you died. It was a terrifying thing for me. I remember once, when I was about 5 or 6, running around the house, hysterically crying. When my mom caught hold of me, she wrapped her arms around me to comfort me and asked me what was wrong. I tearfully replied, "You are going to die someday!" I was so scared of the unknown. I couldn't imagine what would happen to her…or me..when we died.
When I was 17, I met a "man" at my high school. He was handsome, tan, blond and had already graduated. He was also a Christian. He was a challenge for me to conquer. I had always had a boyfriend and never really had trouble getting the guys I wanted. Well, here was another challenge for me. Dale tried desperately to get rid of me but once I set my sight on something (or someone) I could be relentless. Finally he thought he could ditch me by sharing his faith with me. Surely a free spirited, rebellious girl like me would run at the mention of Jesus Christ. But I didn't.
When Dale told me about heaven and that I could go there after I died if I would ask Jesus into my heart….well, I said,"Sign me up!!" No longer would I be afraid of death because now I had "fire insurance". All I had to do was toe the line, so to speak, and I would get to heaven when I died. I accepted Christ purely out of fear. Not because He loved me, not because He died for my sins, not because I was so grateful to Him for all he'd done for me…..but because the words I said would guarantee me a place in heaven. It wasn't until later that I learned that if I messed up and died while in a state of sinning…I would lose my salvation! But that's another story.
I became a part of a very close knit, loving church filled with people who genuinely cared for me and were sad that I had been subjected to a childhood of being raised by lesbians. How Awful. They pointed out to me that I must leave my father and mother and cling to Christ. That I had to reject these sinners and follow after my Lord. That Jesus would provide mothers and fathers in abundance when I turned my back on my real family. I listened to my "new" family. I trusted that what they said was true and that I would be pleasing God by deserting my family. I left home and moved into the home of one of the families in the church. My new boyfriend/mentor (Dale)helped me get a job. He asked me to marry him…..I said yes. I was 18 years old….I had no idea what I was getting myself into.
My moms used to have conversations about me when I was in my mid teens. They would comfort each other by saying that even though I was almost impossible to raise because I was so strong willed and rebellious, at least they didn't have to worry that I would ever let anyone push me around. No one was ever going to tell Laura what to do. She was way too strong of a person for that. Boy…were they ever wrong…..
Laura's Story:
Part 1 | Part 2 | Part 3 | Part 4 | Part 5 | Part 6 | Part 7 | Part 8 | Part 9 | Part 10 | Part 11 | Part 12 | Part 13
More from Laura: