by Vyckie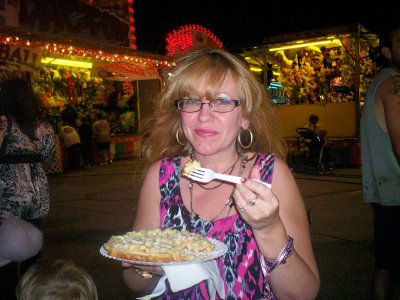 Just look how self-indulgent I've become! LOL No, seriously ~ I didn't eat that entire funnel cake by myself ~ I had six helpers, so we got two pastries (one Bavarian creme and one strawberry) to share 😉
As much as I like to say that I'm pretty clueless these days ~ "I can tell you what I don't believe, but as far as knowing anything, I really don't see how I could" ~ there is at least one thing that I've learned which I'll hopefully hang onto and try not to forget:
Martrydom is not very practical for mothers ~ in fact, it could just get you killed!
As a Christian, I was convinced that considering my own needs and desires would be selfish and un-Christlike. I remember a fellow homeschooler explaining at a small group bible study that one thing which kept him from becoming a Christian sooner was that he wasn't sure if he could still have fun as a Believer. HAVE FUN?!! I thought, "How shallow!" How about, "Will I be able to follow God's will?" or "How can I bring glory to God?" Now those would be worthy considerations when contemplating entering into the Christian life ~ but, "Will I still be able to have FUN??" Who cares? It's not about YOU ~ it's about Christ and following Him.
Jesus certainly didn't worry about having fun. They crucified him and he let them ~ going like a sheep to the slaughter ~ he didn't open his mouth in protest. That's the example I kept in mind whenever the Quiverfull life got overwhelming. "Just don't think about yourself so much," I used to tell Angel ~ it was my way of helping her to cope with the difficult and demanding life we were living.
One thing that's helped a lot to "cure" me of my martyrdom has been something by St. Bernard of Clairvaux which a counselor shared with me. (Clairvaux was talking about loving God ~ but this applies to other relationships as well.) Bernard wrote about four degrees of love and it basically goes like this:
1) I love me for my benefit ~ this first is a selfish and narcissistic self-love which cares nothing for the other.
2)
I love you for my benefit
~ the second degree is also selfish because while it involves loving and caring for others, the motivation is always to get something in return.
3) I love you for your benefit ~ this is total martyrdom which is where Laura and I (and probably most Christian women) have been stuck. We never considered our own needs and desires, but put everyone else first and took care of others even at our own expense. Although this love is completely selfless, Bernard said it is unsustainable and the person so committed will eventually burn-out because of always giving and rarely receiving care and nurture.
4) I love me for your benefit ~ this makes so much sense to me now ~ and I guess it's been all those bible verses about denying yourself, taking up your cross, laying down your life for a friend … or this one which we heard and repeated a lot: I urge you therefore brethern, by the mercies of God, that you present your bodies a living sacrifice … ~ all that sort of thinking has kept us from seeing the absolute necessity of taking care of ourselves and making sure our own needs were met SO THAT we could then care for our loved ones. Being constantly pregnant and/or nursing (and in my case, recovering from c-sections) is a good way to ensure that there'd be nothing left of us ~ and it's no wonder we both were feeling so depressed and anxious and hopeless. It's no wonder we were so burned-out that we considered leaving our children motherless ~ there was nothing left for us to give them and we were completely spent. This fourth degree of love is self-love, but it is not selfish.
So ~ now that we have an old, dead Catholic monk's permission to take care of ourselves ~ oh, and I found out from Augustine that there's nothing wrong with being happy ~ we're kind of living it up. We've figured out that we don't have to do everything the hard way (baking bread from scratch, etc.) in order to be good mothers. And the interesting thing about it is ~ now that I am taking time for me, I have energy enough for the kids too. (okay ~ MORE energy than I ever did ~ it's still a challenge to keep up with all of them. ~ LOL) Someone posted here recently about how the flight attendents' instructions make so much sense ~ in case of emergency, put your own mask on first before assisting your child. How come that was never obvious to me before?