by Vyckie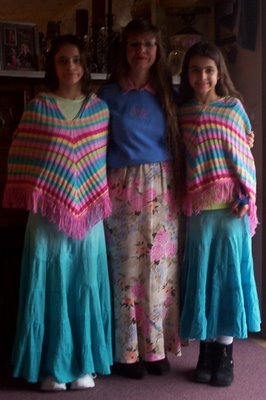 (Hey, Berea & Chassé ~ don't kill me for posting this picture, okay? LOL!)
Now, I never would have admitted this before ~ not to myself and certainly not to the general public ~ but the really big draw of the whole Quiverfull/patriarchy movement was the hope of living such an exemplary life that my husband and my children would one day rise up and call me "Blessed" ~ and that in The End, the Lord Jesus himself would say, "Well done, my good and faithful servant." I wanted to be the very best Christian that I could possibly be.
A popular topic of conversation in our home went like this: "Are we better than all the people who don't live the way we do?" Referring, of course to those "Christians" (yes ~ we used the quotations to show that we weren't convinced these people were actually saved) who send their kids to public school, let them watch television and sleep over at other kids' houses, they even use the church nursery, send the older ones to Sunday School and Awanas and do the whole "boyfriend/girlfriend thing" ~ the ones who didn't understand how dating is actually divorce practice ~ those "nominal" Christians who felt that they could barely handle the 1.8 children they already had and couldn't imagine having more ~ the ones who went out at the first sign of inconvenience or discomfort and got a vasectomy or tubal ligation.
"Of course, not!" came the standard reply. "God shows different light to different people at different times. Just because the other families at church don't understand this part of God's will the way we do, doesn't mean that He isn't still using them."
Ugh ~ I'm making myself ill.
I have a bunch of stuff that I've got to get done today ~ too much got neglected around here while we were all down with the crud. So ~ maybe I'll get back to this post later. Maybe not. It's disgusting the way we used to believe that we had a fuller understanding of God's perfect plan for families and (all glory goes to Him), our family was being "salt & light" to the rest of our church and community. Oh the pressure! Oh the pride! Yikes.