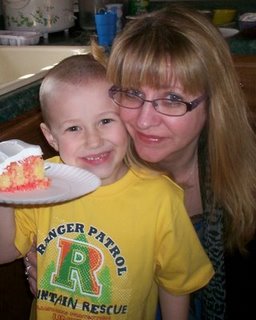 Just thought I'd post a little note to say, "Happy Monday, everyone!"
We enjoyed a wonderful weekend with friends and family. Sunday evening we celebrated Wesley's 6th birthday with a little party ~ pizza, X-box games, presents and yummy strawberry jello cake ~ fun!
Angel was here, along with her boyfriend Aaron and another friend ~ she has a new car that she got at a ridiculously low price ~ so we went for a drive and that gave us a few minutes to talk. She's written her reaction to the "Daughters" section of Kathryn Joyce's book Quiverfull: Inside the Christian Patriarchy Movement

~ I'll be posting that here soon.
Once again, I want to say "Thank you" to those of you who are following our blog, reading the stories and posting comments. I posted this as a comment ~ but wanted to repeat here: Thanks for your very kind and encouraging words. Sometimes I feel pretty hesitant about what we are doing here ~ because I feel like we've taken on something HUGE and I wonder if I'm really up to it!
[The] commenters here make all the difference for me. You all are SO encouraging and it inspires me to keep writing ~ there is really SO MUCH that I want to tell!
I know Laura is encouraged too ~ she's living a nightmare right now ~ and hearing from others who have BTDT and can clearly say, "Good for you ~ you're doing the right thing!" is a real boost to her ability to get through this struggle.

Angel ~ n ~ me 😉
One reader, Aimai posted her husband's suggestion that it might be interesting (if painful!) for me to share some of my old writings and comment on them from my new perspective ~ and I told her that I've actually been considering doing just that. Angel recently told me that if you Google my married name "Vyckie Bennett" ~ "It's like taking a total tour de crap!"
So ~ that's coming soon. I think I'm going to call the series: Vyckie's Tour de Crap.