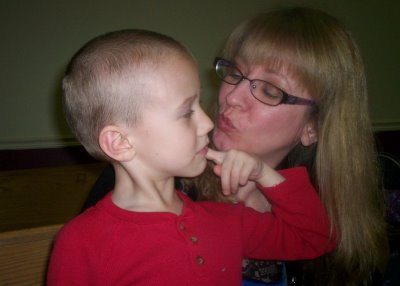 Kiss me right there, Mom!
I'm up way too late working on my story ~ thought I'd take a break for a minute and go moderate comments. I found the following from "Cynthia" and started to post my own comment in reply ~ but after typing for a bit, decided I don't want this buried in the comments section ~ it needs to be a post of its own.
Here's what Cynthia wrote:
Wow, I am amazed how so many things seem to be falling into a straight line for me regarding this issue.
I have nine children simply because I was emotionally and spiritually manipulated into a quiverfull mindset. Finally, with the birth of my last child, we realized that we needed to finish what we had started and raise these children well and I had a tubal ligation. Thus began the walking away.
Since the beginning of the year, I have been dealing with reconciling the reason why I have nine children and having them and continuing to be there mother in a healthy way. I have been slammed with how so many things tainted the gospel … and now in effect, they have become tainted. Don't get me wrong, I love my children and if nothing else, they are the good that came out of those years in the quiverfull movement but at the same time, it hurts to realize that I was so vulnerable and deceived.
Then, last week and again this week, I have found the book, Quiverfull, referenced on several blogs that I follow and then tonight, I have found your blog. I haven't even started reading yet, really. Just revisiting it causes me a lot of weird emotions. I will probably read in small doses and comment as I go along. Obviously, it is time to deal with all of this.
Grace and Peace,
Cynthia
~~~~~~~~~~~~~~~~~~~~
And here's my reply:
Welcome, Cynthia! I know just what you are talking about ~ that feeling of giving your life to an idea that turns out to be not so great. It's wonderful to be out ~ to be thinking and changing ~ and yet, you still have to deal with the consequences of living out those principles which you firmly believed for so long ~ namely, having lots and lots of children to raise.
I often think to myself (sometimes I say it out loud) ~ I have too many kids!
Not that I don't love every single one of them. In fact, it is BECAUSE I love and value each of my children as individuals deserving of having their unique personhood encouraged and affirmed that I feel so completely overwhelmed. There is no way that I can adequately provide the nurture and support that they all need ~ I'm doomed from the outset and my poor kids can't help but feel like I don't pay enough attention to their needs, interests and daily goings-on.
I remember as a QF mother looking down at the "typical" mothers who bore an average of 1.8 children ~ they were always looking at my brood in amazement while declaring, "I don't know how you do it! I can barely handle the two that I have." Well ~ I truthfully believed that it was because such women are selfish and not truly trusting the Lord to provide His strength and His wisdom ~ that is why they felt inadequate.
But really, when those women looked at our family and marveled ~ wondered how I did it all ~ the truth is, I DIDN'T do it all. My kids were being short-changed and neglected.
Sure, we had become more organized, more efficient ~ I learned to delegate, set priorities and learned to lower my standard for what qualifies as a "clean" house. We pared down considerably on the amount of clothing each child had in order to cut down on the laundry. I was a "manager" of my home ~ and I made one of those handy charts laying out our schedules in 15-minute intervals. We did once-a-month cooking ~ and eventually cut down to only two meals (plus a snack) per day to eliminate the time and trouble of having to prepare, cook, eat, and clean up after another meal. We got rid of "clutter" ~ including most of the toys. We cut out extra activities. We cut out having friends ~ because that's just another thing to deal with. We cut out family ~ no time for them either!
Despite running a tight ship ~ and totally having our acts together so far as organization and productivity goes ~ my kids were still neglected. We weren't getting our homeschooling done. Although I felt that family devotions were top priority ~ we mostly only managed to do that around Christmas time when we took the month off from everything else. The older girls were skilled at housework and cooking, yes ~ but they had practically NO social skills ~ no life.
Here's the thing ~ when I was "doing it all" ~ I seriously did not see how much was really not getting done. Not that I was completely clueless ~ just that I was so focused on dealing with Warren ~ and all the time I was just TRUSTING that by serving and supporting the Head of our home (my first calling), I could count on the Lord to take care of all the details and to make up for my inadequacies and failures. I believed that God would work it all out so long as I was faithful.
So ~ when someone asked me, "How do you do it all?" ~ I would give a lovely description of the wonderful life in our home where the children all worked together and "many hands make light work" ~ I would talk about our efficiency, our time-management skills, etc. It's not that I deliberately lied ~ just that what I was trying to communicate was a VISION of a godly home ~ that's what I wanted and that's what I believed I had. And I could have gone on convincing myself that the Lord really was working it all out, blessing our faithfulness, and prospering our family ~ if only it weren't for that pesky issue of Angel cutting herself ~ and then swallowing all those pills…
Now that I am "No Longer Quivering" ~ things have changed pretty drastically as we have been able to focus on the kids and their needs. They're doing so much better ~ every single one of them is learning and growing ~ they continually impress me with their talent and intelligence ~ and their ability to make up for lost time.
Still ~ I just can't keep up. I quit writing my "to-do" list down because I'm afraid to look at it. Ugh. Everyday after school the kids all come through the door with homework that needs to be done, papers I need to sign, money they need for this or that activity and ~ Can so-and-so come over to play? This one needs a haircut ~ another has an art project on display at the mall that we all have to see ~ they all want to use my phone to text their friends. Oh, and did I mention in all this that they seem to think they should eat and have clean clothes to wear?
Not too long ago, I wrote the following for our family journal:
I Need Staff!
I could really use a secretary, grounds keeper, chauffeur, nanny, private tutor, maid, cook, nurse, computer technician, accountant, personal organizer and a household priest(ess) ~ oh yeah, and someone to shop and do the laundry. Maybe then there'd at least be the possibility that I might be able to keep up with things around here. I realize that moms do all this stuff even if it means never sleeping ~ hmmm … think I could hire me a wife? LOL!
I'm really coming to appreciate the value of a wife and mother ~ if I had one of my own, I'd probably have my book written by now 😉
Of course, I love my kids and I'm glad that each and every one of them was born. BUT that truth does not negate the plain and simple fact that the Quiverfull teachings are duping women into having more children than we can responsibly care for and nurture.
So ~ yes, Cynthia ~ I think I understand the weird emotions you're experiencing. It can be a little hard to articulate because we don't want anyone to jump to the conclusion that because we feel like we have too many kids, we must not really love them.