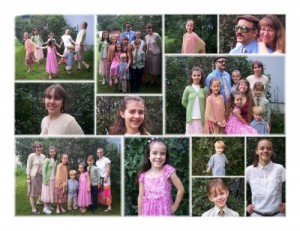 Vyckie's family 2007
An important consideration that's obviously on everyone's mind here can be summed up this way: All those years that I published a "pro-life, pro-family" newspaper and I was writing articles for home school magazines encouraging others to live a QF/patriarchal lifestyle ~ we seemed to have a really nice, happy family. The Bennett Family was a role model for other Christian families ~ we were even honored by the governor of Nebraska in 2003 as "Family of the Year." I've shared many
testimonies of God obviously working in our lives
. (Be sure to click that link.) Now I've set up a blog and I'm writing a book saying this lifestyle ~ and the Christian worldview which supports it ~ didn't work for our family ~ we were actually being abused and my children were neglected.
So what's the deal? Were we really happy? Did we only SEEM to be happy? Did I really believe all that "Tour de Crap"? Were we putting on appearances? Was I self-delusional? Was I lying?
There's been plenty of speculation, both pro and con in the comment section ~ but here's a response "straight from the horse's mouth" ~ to the above questions, I say, yes.
YES ~ to all of it.
You see, it gets kind of complicated actually ~ because I was sincere when I told everyone what a wonderful husband I had and how happy we all were ~ and yet at the same time, I KNEW something was wrong. (I've since learned that this is pretty typical in dysfunctional relationships ~ Stockholm syndrome, etc.)
One thought I want to share here, and I'm going to save the rest to be explained as I continue to write my story:
Although the QF/P lifestyle was actually a disaster for our family and I knew it ~ I nevertheless had a lot of confidence in God and in the whole biblical family set-up. I rationalized to myself that just because it's not working FOR US doesn't mean the system itself is flawed. I had a VISION of what a godly family should look like ~ and although our family didn't exactly reflect that vision, I told myself, we're working on it. So ~ in my articles, my motivation was often to uphold the lifestyle in general ~ not necessarily our family's practice of it in particular. Often as I was writing, I had a picture of Doug Phillips and his family in mind ~ or the Campbells ~ since I believed it was working for them. (This was before Angel actually went to live at the "Campbell compound" as they call the land where Nancy and several of her daughters and their families all live near each other.)
Not long ago, I watched the new (2004) version of the movie, The Stepford Wives. Towards the end of the movie, it is revealed that the lead guy, Mike is actually a robot and it is his WIFE, Claire who is behind the whole scheme of turning women into microchip-controlled cyborgs.
Here's part of the dialog which follows this stunning revelation:
What are you ~ a person? or a machine?

Claire: I'm a LADY!

A real lady?

Claire: Every inch.

Wait ~ a real, real lady? Are you a human being?

Claire: YES! I may very well be the only decent human being left.

In Stepford?

Claire: In the WORLD!

All of this … the wives … Stepford ~ this was all your idea?

Claire: Yes … all I wanted was a better world. A world where men were men and women were cherished and LOVED.

She's nuts!

Claire (with a dreamy look on her face): A world of romance and beauty … of tuxedos and chiffon … a PERFECT world.

But you were married to a robot.

Claire: The perfect man. And all I wanted was to make you (she points to all the women whom she had turned into subservient "Stepford Wives") ~ all of you ~ into perfect women …
Pretty creepy, huh? At least, that's what I was thinking. After all, isn't that exactly what the QF/patriarchy "Vision" is all about? A perfect world ~ the perfect family ~ perfect wives? That is exactly what I wanted for my family ~ and maybe I couldn't have articulated that desire for perfection "Q.D." ~ but it was there and it was driving me … drove my daughter to the psych ward in despair, and the rest of us (including Warren) didn't fare much better.
I've mentioned several times already that it's often the women who are seeking out these books and other material published by Vision Forum, Grace and Truth Books, Inheritance Publications, etc. ~ materials which teach and promote the QF/patriarchal lifestyle. I can only speak for myself ~ but I wouldn't be surprised to find that it is this "Vision" which inspires many women to lead (sometimes even PUSH) their husbands and children to become a quivering family.
Yes ~ the Stepford community was ideal ~ and they were all pretty happy. But at what cost and who paid the price?