by Vyckie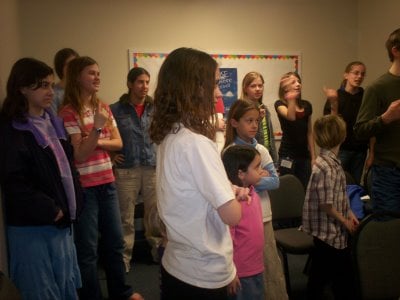 At the CYIA Spring Retreat ~ all weekend long, I fought the fear that I had just invited disaster upon myself and my children…
Laura's story, Three Lilacs and a Statue made me think about another topic which Laura and I have discussed on several occasions ~ so I talked to her about it again and we decided we would write this post together since "superstition" was such a HUGE part of both of our experiences.
I'll go first...
Vyckie: Part of my "submissive wife" mindset included the belief that unless I had my husband's approval, whatever idea or plan that I had was doomed and I might as well not even bother. The practicality of that belief was complicated by the fact that Warren's automatic response to anything new was ALWAYS to thoroughly go over every possible reason why whatever I wanted to try wouldn't work out. In other words, I had to convince him ~ every time. It was a real chore, since his reasoning and conversational skills were sorely lacking ~ so trying to give good reasons for anything was an exercise in absolute frustration.
This conviction that I had became a self-fulfilling prophecy and whenever I "defied" Warren by doing what I wanted without first seeking his approval (I would not have said that I asked his permission ~ nobody could have convinced me that there was no equality in our marriage) ~ things always ended disastrously for me. After several years' worth of incidents where I noticed this happening, it got to the point that even if I convinced Warren and he decided, "Okay ~ that'd probably be fine for you to try" ~ unless he WHOLEHEARTEDLY supported me, my plans just never worked out ~ the perfect opportunity for Warren to feel justified in his initial reservations about whatever it was that I wanted to do.
In order to give the kids an opportunity to interact with other children and to develop some skills, I wanted to enroll them in a local 4-H club. I figured it would be the perfect set-up since I could still be very involved in all of their activities ~ so could monitor their associations with the other children ~ plus, I explained to Warren ~ the 4-H schedule would give us deadlines which would force us to get things done ~ something that wasn't happening in our homeschool. Warren wasn't so sure about the idea because all the other children in the 4-H club went to public school.
I was feeling pretty desperate about how far behind the kids were getting in their education ~ and I could see that their emotional and social maturity was being stunted as well. So ~ after a series of grueling, hours-long, headache-invoking conversations ~ I talked Warren into allowing the children to participate in 4-H.
Sure enough ~ it didn't work out. The kids didn't like going to the meetings (because they felt like freaks) ~ PLUS, seeing the competence of the other kids made our kids more aware of what they were missing out on by not going to school. Weren't homeschoolers supposed to be way ahead of public schoolers? Mine weren't ~ and they knew it ~ which led them to complain and ask questions ~ which put Warren on the defensive and he became uptight, whiney, angry … We had endless "discussions" in which he complained about the negative effects of the "worldly influences" which the kids were being subjected to in 4-H ~ and I provided counter-examples in a effort to allay his insecurities and convince him to let the kids continue in the club. This became almost a DAILY ordeal ~ eating up hours of my time and zapping any energy which I might have had to help the kids with their projects.
So ~ despite the fact that the kids were learning some fun and useful skills in 4-H, I finally pulled them out in order to restore some semblance of peace in our home. We quit. It was just easier than fighting the Holy Spirit ~ Who was obviously backing up my husband's authority as head of our home. I learned from repeated experience that it just did me no good to try and buck "the system" ~ i.e., the patriarchal system in which the father's ability or competence to lead the family do not really enter into the equation ~ HE is the Head. Period. Don't fight it ~ or you're fighting God and that is always a wasted effort.
After a few months of corresponding with my Uncle Ron ~ as I was starting to wake up to the craziness of such a narrow-minded belief system ~ I decided that my idea that opposing Warren was the same as opposing God and, if I tried it, something horrible would happen ~ all that line of thought was nothing more than superstition and, as a competent, intelligent woman, I could make some decisions without having to run every little detail past my husband first.
Another opportunity for the kids to be around other "like-minded" children came up ~ they were invited to a Christian Youth in Action Spring Retreat in Lincoln ~ about a two hour drive from our home. I decided that we were going ~ I was taking the kids and I didn't really care whether Warren wanted us to go or not. *I* was making the decision. Period.
When I informed Warren, he was stunned. "You're not asking my permission?"
Absolutely not.
Warren went into a panic ~ he followed me around as I was packing and listed all the reasons why it wasn't a good idea: What did we really know about this "Christian Youth in Action" group? Were there going to be boys there? Didn't the Gesell kids get into that group ~ and look what happened to their oldest girl! Have you checked the weather report?
Warren checked the weather report ~ snow and high winds ~ possible blizzard conditions. Blizzard, huh? I thought to myself ~ Well, there goes God, backing up my husband again.
"We'll be fine," I insisted as I loaded the kids in the van. Warren called his friend ~ an elder in another fundamentalist church ~ he told him what I was up to and asked for his opinion.
"Well, it's obvious who really wears the pants in your family."
That did it for me ~ I put the van in gear and headed for Lincoln. The entire drive, and all weekend long, I fought the fear that I had just invited disaster upon myself and my children. "NO!" I told myself ~ I can make a decision and nothing is going to happen to me. It's the same feeling I had when I became a Christian and put aside my old superstitions ~ assuring myself that just because I broke a mirror, walked under a ladder or put shoes on the bed didn't mean I was doomed to experience some episode of bad luck.
The kids had a wonderful time that weekend. Nothing bad happened. As I pulled the van back into the garage on Sunday afternoon, I thought, Hey ~ everything went well and we are all fine! Look how silly I've been all these years!
That was a defining moment for me and I haven't looked back. Once I overcame my superstitious fear, I was able to really look at our situation and see it as it actually was rather than as I wished it could be ~ that's when I found the courage to take charge and make some decisions for myself and for my kids ~ after all, it's OUR lives that were being affected ~ and WE MATTER, damn it.
This is Laura now…
I can totally relate to this feeling of "I'd better do what he says or it's going to turn out badly." I lived under the same fear as well.
Sometimes I would ask my husband if it was okay for me to do thus and such. He would say, "No" and I would "make an appeal." That would be me thinking up another way to ask permission for the same thing hoping that he was in a better mood or feeling more charitable at that moment or had changed his mind (HA!) So I would go back again. Sometimes I would go back 3 or 4 times. Sort of like a child asking over and over until they got a yes or got ignored.
Occasionally he would "throw up his hands" and say,"Fine, do it already!" Oh Goody. I had permission now. But he really didn't want me to do it so I couldn't hardly enjoy it anyway and usually it worked out poorly in the end. Maybe the poorly part was just me trying to enjoy myself when I knew my husband was not happy that I had pushed him to the point of saying "go ahead."
Whatever the reason, I learned (not too quickly I might add) that if my husband said, "No" off the bat, just give it up. It was just going to end up in a mess anyway.