Okay ~ I'm finished posting the part of my story which I wrote for my uncle ~ and before I start writing "the rest of the story" ~ I want to share part of the last letter that I wrote to Ron. (Warning: my letters to Uncle Ron were always way too long!) After nearly a year-long correspondence in which we wrote almost 1,000 letters back and forth, my uncle and I managed to cause some serious upset with the relatives. It's quite a remarkable story filled with a whirlwind of intensity, obsession and drama ~ and in the end, Ron decided it would be best to end our letter writing ~ I haven't heard from my uncle in almost two years. I miss him.
Although I understand and respect Ron's reasoning, his cutting off all communication was very poor timing for me, because I was just beginning to "get" what Ron believed (didn't believe) ~ and it made sense to me. At the same time, everything was coming together into a "perfect storm" for my family as I had brought Angel home from the psych ward in Nashville ~ Warren reacted almost immediately, causing so much stress that I felt like I had to choose between him and Angel ~ I am ashamed to say that I chose to support my husband ~ sending Angel to live with another home school family in town. The distress in our home stirred up concern for my health with some friends which led to a visit from social services … two different case workers came and neither of them found cause for concern so they closed the investigation as "unfounded." I explained all that to my uncle ~ and that's where my letter picks up:
… It could have been a real hassle ~ but the whole thing was relatively painless.
Except that I used the incident as an excuse to move Warren out of the house ~ he's staying with our home church friends in West Point. I just do not have what it takes to deal with him anymore. I used to have endless patience because I thought that working with my husband and supporting him was something that God would have me to do ~ I thought it was required of me as a good Christian wife. Only I'm not so sure about God these days and I do wonder if I could really be considered a Christian given how little of it I believe now. Without sufficient motivation, I just don't have the energy to continue on with him….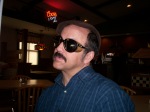 [I'm very afraid because I just know that I don't have what I need to set things aright with Warren. And, … I'm going to have to tell the children something, but what can I say, "I made your dad leave home because without a firm belief in an eternal reward, there's nothing to prevent me from being the selfish person I am"?
I know that Warren is in a total panic about me moving him out of the house. He's always been thoroughly dependent on me and since I'm pulling away from him, he's feeling like his whole world is coming apart. (Just try to imagine what it must be like for him.) It kind of parallels how I'm feeling in the spiritual realm ~ like the bottom's been yanked out from under me and I'm left, like a cartoon character, running in mid-air. I know the longer Warren stays away, the more I'm going to like it and pretty soon, I won't want him to come home ever. That's not good. So ~ I need to take care of that situation, but I just don't have the energy for it. Truthfully, I don't think I actually I care. It is dreadful to think that I could really hurt a lot of good people by my actions and I'm feeling so hard-hearted right now ~ like it wouldn't really bother me.
Guess I'm depressed, huh?
I don't know what I can do about it ~ I've been trying to find some strength within, but all I feel is empty. I don't know who or what I am anymore ~ maybe nobody and nothing ~ but I know what everyone else thinks I am ~ a Christian wife and mother, a strong person and a survivor. When the truth comes out, it's going to be very ugly.
Something else that's pretty scary: if, as I kind of suspect, it turns out that I don't actually believe in a personal God, I know I'm going to be exceedingly pissed ~ knowing that I've done my best with the hand I've been dealt and it's cost me a lot and it's worn me down ~ only to discover mid-way through that the game is rigged and there's no way I can win. I'm not going to just keep playing as though it doesn't make any difference….]
I am trying, really trying, to do my best for [the children] ~ but I pretty much believe you now about the war at home being unwinnable and I do not want to keep fighting in a futile attempt to save my family from the crap and the creeps (especially if I happen to be one of the creeps they need protection from).
I've said before that I could have kids in the psych ward for a lot less effort.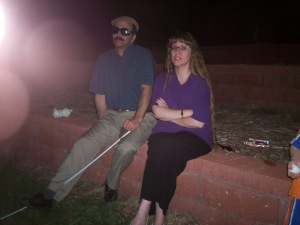 After seeing what Angel's going through, I'm convinced that everything I've tried to do to make things better for our family has been misguided and doomed to failure. So I'm going through the motions … all the while having no good answer to the question which keeps running through my head, Why am I doing this? When the social workers were so easily satisfied, I was almost disappointed that they didn't take the children away. I am just sure that someone else ~ anybody else ~ could do a better job with them.
… With all the struggles that we're going through right now, I know my family needs me desperately ~ they are all so upset and confused. But I have nothing to offer them. I'm too confused myself. All the presuppositions which I've used to interpret the world and order our family have been swept away and I'm left in that "dissonant world of emergence and transition" of yours which once seemed so foreign but now is fairly obvious to me. You've somehow found comfort in that world, but to me it's a barren place devoid of any real meaning or purpose.
And I'm all alone there. I wouldn't think of telling anyone that there's been a radical change in what I believe (don't believe) ~ it's dreadful enough for me to think about, but I don't want to panic my loved ones who would be sure to fear for my eternal well-being if they knew ~ especially not now when things are such a mess anyway and they need their worldview intact in order to make sense of things and find purpose in these difficulties.
So I offer them my assurance by saying all the right stuff ~ but it's just empty talk for me right now. I'm thinking of Christopher Hitchens' words about Mother Teresa in a recent Time magazine article (I'm sure you've seen it): She was no more exempt from the realization that religion is a human fabrication than any other person, and that her attempted cure was more and more professions of faith could only have deepened the pit that she had dug for herself….
Of course, I'll be okay. I always am ~ which everybody knows…. It's just a matter of time before I recover my equilibrium and rescue us all from the latest situation ~ at least that's what we're expecting based on repeated experience. And it's probably true ~ although I can't help but think of the standard financial disclaimer:
Past performance is no guarantee of future results….
I'm just tired of trying. And I can't think of any compelling reason why I should keep trying. I know I will try some more ~ it's kind of hard not to when Lydia and Wesley simply expect it of me and have no doubt that I'll always do what moms are supposed to do.
I've been trying to keep in mind what I said to you, that I need to focus and "do what I already know to do for Warren and the kids whether or not I have a neat little system of belief to serve as incentive to do the right thing. In other words, I need to get to work on the practical matters and trust that all the big questions will take care of themselves." But I'm finding that it's not possible for me to stop thinking about ultimate questions ~ I really don't have it in me to press on solely by sheer grit and determination.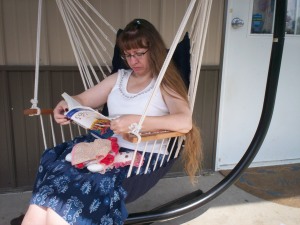 I've lost my enthusiasm and not even the children's need for their mother's love and care is enough to motivate me ~ I'm not convinced that whatever I might do is the right thing. After all, I've been wrong before ~ and my family is suffering the effects ~ so there's nothing to make me think that I won't be doing more damage and digging a deeper pit for all of us….
[I know … it was probably inevitable that I would outgrow my "ignorant, atavistic and irresponsible" faith in the goodness of God, with or without you. But it so happens that I did it with you ~ and that's what makes me want you to know what it's like for me now.]
I'll just close this by saying, "Goodbye" ~ but I also have a little parable to share with you which I've been rehearsing in my imaginary theatre:
This is the story of a creature. I've not yet decided what sort of creature it is. Sometimes, I imagine it's a great bird. Maybe not so exceptional a fowl as an eagle ~ but still, a fine bird, like a falcon or a hawk. If indeed my creature is a bird, it is one born in an atrium ~ or a zoo. Okay, maybe not a zoo ~ because it's not like the bird's wings were clipped, but only that it had never been in a free environment so, pathetically, this majestic creature had little more than a suspicion that it could fly. Until recently. Somehow, to the consternation of many, the bird was released from captivity and immediately spread its great wings and flew away.

Well … it didn't just flutter off like a little finch or a sparrow ~ this was, after all, a very fine bird which soared high above the trees. Giving in to its innate ability, the bird could feel the exhilaration as it effortlessly caught a current with its great wings and let the wind carry it along ~ so naturally, so very easily drifting through the blue heaven, lofty and glorious in its flight. This was the thrill and the pure pleasure which the creature was made for!

But alas, I fear my creature is not a bird released into a clear, cloudless sky, but rather some sort of wild animal which had been captured in its youth ~ maybe a panther, or a wolf. Yes, a wolf. Though raised in captivity, the creature was never fully tamed ~ it was restless and easily agitated. Having a vague feeling of being detained in an unnatural environment, the wolf often behaved like the wild beast it is ~ howling, pacing, pawing at its cage.

Not long ago, the wolf discovered the door of the cage was open by a little crack. This opening was brought to the creature's attention by a timber wolf ~ a free animal inhabiting the woods which had been drawn to the creature out of curiosity and kinship. I suspect there was a sort of divine presence which mysteriously opened that door ~ and only for a little time, but in an instant, the wolf rushed heedlessly towards the crack and pushed its way through into the wilderness which lay just beyond the cage.

It was twilight ~ the pale sky was faintly lit by the eerie glow of a great celestial sphere just below the horizon. I don't know if the sun was setting or rising. Since this is my story, I ought to be able to tell ~ maybe I can even decide ~ but so far, I just don't know.

Instinctually, the wolf bristled as it sensed its danger in the wild. Just as the wolf was ready to run for dear life ~ as it must do to keep ahead of the other wild beasts which were eager to kill and to devour ~ the sound of frightened whimpering reached the wolf's ears. You see, as it turns out, the creature in my imagination is a she-wolf with a litter of pups still confined to the cage. Only to them, the enclosure is not a jail to limit their freedom, but rather, it is a safe haven providing protection from the harsh and unforgiving wilderness ~ it is their home.

Realizing that she had been separated from her babies, the she-wolf felt a stab of panic in her heart. Could she return to that cage? She tried desperately to get back inside, but alas, the structure would not yield to her. Could she guide her pups to the opening by which she had escaped and bring them out into the wilderness with her? Since anything is possible in my imagination, I think she could do that ~ but would it be to their benefit, or their peril? After all, they are only half-breeds ~ a few may be partly wild like the she-wolf, but they are only pups raised in captivity and accustomed to being cared for and sheltered.

The she-wolf hesitated ~ should she run as she must for her own wilderness survival? (She could sense the danger closing in around her.) But she couldn't leave her babies. She lingered near the cage, confused and conflicted.

"I can see where you would feel trapped," the timber wolf observed with a cool indifference as he backed away.

"I am not trapped," thought the she-wolf with her usual bravado. "Something will come to me ~ it always does."

The rest of that script has yet to be written. And since it's my story, we could expect that the ending will be something like, "and they all lived happily ever after." Only today, it is a little beyond my imaginative powers to envision how to get from here to there.