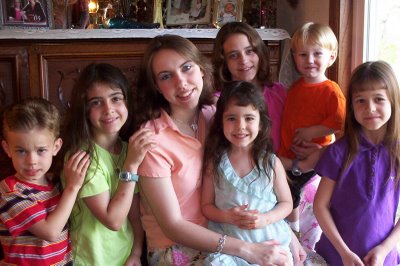 This photo of my lovely children was taken on Mother's Day ~ 2005.
Here's another article that I wrote back when I was "quivering." (‹(ô¿ô)›) The reason I wanted to share it here is simply to make the point that, for me (and I believe MANY quiverfullers), it was a "package deal." We started out homeschooling (and I'm not saying that ALL homeschoolers go down this exact same path ~ but we certainly weren't the only ones) ~ and everything else flowed from there.
I remember that after years and years of getting deeper and deeper, I began to sort of dread opening a new issue of Home School Digest, "The Quarterly Journal for Serious Home Schoolers ." (This was my favorite magazine ~ I often reprinted their articles in my paper and Skeet occasionally published my articles in her magazine.) I'd be thinking to myself, Oh boy ~ what's next? BUT ~ that apprehension I felt was always coupled with excitement at the thought that we were learning new ways to live out the principles of a truly godly, biblical family so as to bring glory to the Lord and to be Salt & Light to our friends, family and community.
HOMESCHOOL? OH, I COULD NEVER DO THAT!

by vyckie bennett




Those were my exact words when our pastor's wife, Joann suggested that we try homeschooling. When Warren had a cornea transplant in 1988, he was instructed by the doctors not to do anything for six months – he wasn't even allowed to sneeze for fear of rejection of the new cornea. So I bought him a set of alphabet flashcards and, although he couldn't see them, since they were all in order, he was able to teach Angel her letters and their sounds. Eventually, the transplant was rejected and Warren did not recover his eyesight, but that half a year was anything but a waste of time – our four-year-old had learned to read!

We were faced with a dilemma – Angel's birthday isn't until November, so it would be another year before she could enter Kindergarten. We worried that when she finally was old enough for the classroom she would be bored to tears academically.

I was sure that I could never teach at home even though I was in my second year of college working towards a degree in education. I didn't have the patience, nor the time, nor even the desire to have my overly-talkative, very curious child at home all day, every day looking to me to keep her challenged.

Joann urged us to try homeschooling "for just one year" – if we found it wasn't for our family, Angel would still be on track to enter school on schedule. She shared with us one of her homeschooling catalogs – the materials actually looked very inviting with colorful pages and simple instructions. I ordered one A Beka homeschool workbook and Angel and I were both hooked. So began our homeschool journey.

Homeschooling – It's Not Just for the Children

Warren and I have learned much more than our children through homeschooling. The first thing I learned was to love and enjoy my children. Not that I didn't love Angel – but she was such a handful! Cute? Yes. Smart? Very. Exhausting? Absolutely! There was no end to her cheery chatter and inquisitiveness. Angel is very outgoing and thrives on attention. I, on the other hand, am more of an introvert – interacting and relating tends to drain me and I need time alone to recharge. Also, she is highly emotional while I tend to be more logical so I was uncomfortable with what I refer to as her "gushiness." So, I was ever eager to pass my child off on any occasion. We had her involved in all manner of activities where I could drop her off for an hour or two – or half a day – so I could be free to pursue my own interests.

Through homeschooling books and magazines I was introduced to the truth that children are a blessing and a delight. I had heard it often said that they grow up quickly and we needed to enjoy them while we have them. But the reality didn't sink in until I began to meet other parents who actually wanted to be with their children and took pleasure in the company of their little ones.

I now understand that Angel and I are very well-suited for each other. She helps draw me out from my escapism and stoicism and I have helped her to temper her passions and not dominate conversations and relationships. I have learned not to idolize "my time" and "my interests" – now, instead of being anxious for my children to be raised so I can "get on with my life," I see that raising children IS my life for this season and I can live and enjoy them in the present.

Once I decided that I really do love children, we wasted no time providing built-in playmates for Angel. We had six more children in eleven years. Talk about opportunities for personal growth! Warren and I have become experts in organization, time management, and all-around efficiency.

Because the children are with us all day, when character or behavior problems arise we do not have the option of letting things slide – we must either work out a solution or go crazy. This has led us to many creative solutions to family problems which might otherwise have persisted for generations. (Read my article,

Bless, Do Good, Pray … 3 Remedies for Sibling Rivalry

for an example of God-inspired problem solving.)

Putting the "Home" in Homeschool

An added benefit of being involved in the homeschool movement has been exposure to what I term the "Homeschool Lifestyle" – the revival of ideals and practices that have been forgotten or neglected by Christians for far too long.

Family Unity

– Family life has become so fragmented in recent years with each individual member going their separate ways busily pursuing their own person agenda. The homeschool family has been likened to a team of all the same color on a Chess board – working together and all advancing in the same direction.
The Family Altar – The homeschooling community places great emphasis on the role of the father as spiritual leader. Setting aside time daily to worship, study, and discuss the Lord and His Word is THE KEY to family success.

Healthy Eating Habits

– Not only do we eat together as a family every day for nearly every meal, but we now have more time and more cooks available to prepare nutritious meals so we are nourishing our children's bodies and souls simultaneously.

Modesty

– It's too bad that fashions seen in churches these days would have been a scandal on the streets in days past. One advantage that homeschooled children enjoy is reduced peer-dependency which means they are more easily able to forego the latest trends in clothing styles.

Courtship vs. Dating

– Why do we encourage our hormone-laden teens in the boyfriend / girlfriend game and then despair when they become promiscuous? Tons of time, money, and energy could be saved on abstinence education by simply eliminating the pairing off of young people who are not prepared physically, emotionally or financially for marriage. Serial dating is nothing more than practice for serial marriages.

Radically Pro-Life

– A.K.A. "Quiverfull," "allowing the Lord to plan our family," or "trusting God with our family planning." It is this ideal which has resulted in our having quite a few more than the average number of children. Why do Christians seek to limit the size of their families through the use of chemical birth control? The truth be told, our reasoning generally parallels that of the abortion culture – additional children will cause inconvenience, financial hardships, lifestyle constraints – all this coupled with the desire to separate sex from procreation. How can the Church expect to speak with any moral authority on the evils of abortion when we ourselves are guilty of the very anti-life values fueled by the family planning mentality?

Children Are the Real Winners

We graduated Angel in the Spring of 2004 having homeschooled her all the way through High School. She is currently living in Tennessee, pursuing music and volunteering at Above Rubies, an awesome ministry to encourage women in their role as godly wives and mothers. Recently she has almost single-handedly organized a benefit concert to raise money for a Liberian orphanage and to help bring several of the orphans to America for adoption.

Although she often thanked Warren & I for making the necessary sacrifices to teach her at home, now that she's living in the "Real World" (a misnomer) Angel is truly appreciative and is bearing good fruit in keeping with the cultivating of the soil of her heart which we have been diligent to tend over the years.

Admittedly, we are still quite early in our parenting career with little Wesley barely two years old. Homeschooling has been our privilege and our delight. The blessings of our first fifteen years of home schooling encourage and motivate us to earnestly look forward to another sixteen or so years.

Wesley is the beneficiary of all the wisdom gained from experiments on Angel who has so graciously served as our guinea pig.
………………………………………………………………………………………
// < ![CDATA[
//
NLQ recommended reading:
'Quivering Daughters' by Hillary McFarland
'Quiverfull: Inside the Christian Patriarchy Movement' by Kathryn Joyce