by Vyckie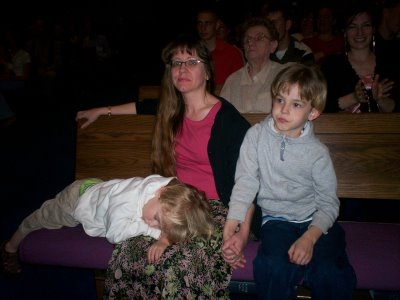 Me & my boys ~ at a homeschooling conference ~ soaking up new ideas about how to live a godly lifestyle that would be pleasing to the Lord.
Many NLQ readers have expressed their observation that in any healthy belief system or chosen lifestyle, there needs to be "balance" ~ a quick glance through the comment section will yield plenty of observations that we've gone from "one extreme to the other."
Part of the reason I'm writing this blog is to hopefully help those who have never personally been steeped in the fundamentalist mindset get a glimpse inside the world and ~ more significantly ~ the head of one who's been there and done that. So ~ with that goal in mind, let me tell you what I used to believe about "Balance" ~ Q.D. 😉
Many years ago we attended a "Bold Christian Living" conference by Jonathan Lindvall. After talking all morning and half the afternoon, Lindvall made the statement that, homeschoolers who were serious about following biblical roles for families and adopting the sort of radical lifestyle which he was advocating (QF, patriarchy, courtship, sheltering of children, etc.) would soon be cautioned by friends and family that they needed to be careful not to go to extremes ~ "They'll be talking to you about how important it is to be BALANCED."
"Did you know that Jesus directly addresses this issue of 'balance' in the bible?" Lindvall asked us. Then he read to the audience from Rev. 3:15-16 I know thy works, that thou art neither cold nor hot: I would thou wert cold or hot. So then because thou art lukewarm, and neither cold nor hot, I will spue thee out of my mouth.

Lindvall went on to explain that the believers in Laodicea avoided all "extremism" ~ they were neither hot nor cold ~ and Jesus found them to be repulsive. Jesus could not tolerate this local community of "balanced" believers ~ what He wants is not "balance" ~ but BOLDNESS ~ EXTREME followers who are committed ~ sold-out, on fire ~ Jesus has no interest in "lukewarm" followers ~ He wants RED HOT believers who are not ashamed and won't back down.
"Don't shy away from extremism," Lindvall admonished, "Jesus would prefer that you not serve him at all than that you do it in a half-hearted, 'balanced' manner which draws no attention to His radical, extremely different ~ peculiar people."
So there you have it: BALANCE = LUKEWARM
No way were we going to strive for balance in our walk with the Lord.