by Vyckie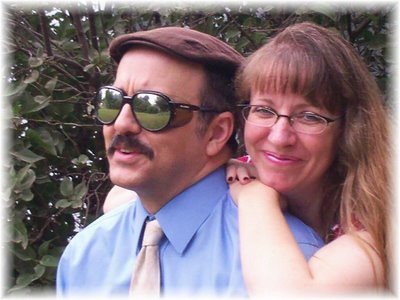 "Just SMILE, okay?" This photo was taken on my 18th anniversary before church. Warren was in a terrible mood that morning ~ and all I wanted was to get family pictures taken which made us all look like such a happy family. It's like the more unhappy we were, the more determined I was to put on a good face and show the world how exceedingly happy we were. Ack.
Okay ~ I'm trying to work on writing the next installment of my story ~ but now I'm distracted with another topic ~ Strong emotions in general … and ANGER in particular.
I started a thread to discuss health issues ~ and almost immediately regretted it because as I've been reading the angry comments from those who feel very strongly that I need to get my kids vaccinated right away, I have been startled by that old feeling of "How can I make this person happy?" I want everything to be okay.
That's exactly how I felt all those years in an abusive relationship ~ the one thing I couldn't stand was for Warren to be angry. If he was put out in any way ~ I'd do whatever was necessary to fix everything for him so that he'd calm down and I wouldn't have that knot in my stomach that made me feel like a little child who had been sent to her room to await her punishment.
I couldn't stand for Warren to be angry ~ wouldn't allow myself to get angry ~ but what REALLY stressed me out was when my kids reacted to their father's pettiness, controlling and hyper-criticism with anger. I just couldn't handle it when Angel would yell back ~ or else turn the anger inward by biting or cutting herself. Why'd she have to be so emotional?
I remember my mother would often tell me about how my great-grandmother, Velma King was always such a calm, composed lady ~ always sweet and smiling. Shortly before she died, I went with Mom to visit great-grandma Velma in the hospital. Poor Grandma ~ she was in such pain! What really made an impression on me was the way Velma treated the nurse's aid who was helping to feed her breakfast. Even though she wasn't hungry and it hurt her to swallow, after every bite the nurse gave her, Grandma would smile and say, "Thank you, dear."
Wow
, I thought to myself ~
she's my role model. I want to be like that.
Angel and I were talking about this recently ~ she made the point that, in abusive relationships, when the abuser is angry somebody had better do something about it, RIGHT NOW ~ but the abused person just isn't allowed to get angry or feel strongly about anything at all.
Not too long ago, I was talking on the phone with Laura and she mentioned that a friend had told her that all her anger isn't affecting Dale at all ~ but it could really eat her up, so maybe she needed to let it go for her own sake. My response was ~ Why the fuck shouldn't you be angry? You have been ripped off and cheated out of your youth, your talents and ambitions, YOUR CHILDREN ~ you have every right to be pissed at Dale.
I also told Laura that the advice she'd received really sounded like more religion ~ then I read to her the Karl Marx quote that I've been carrying around in my purse (because I refuse to memorize it the way I used to memorize bible verses):
Religion is the sigh of the oppressed creature, the heart of a heartless world, just as it is the spirit of a spiritless situation. It is the opium of the people. The abolution of religion as the illusory happiness of the people is required for their real happiness. The demand to give up the illusion about its condition is the demand to give up a condition which needs illusions.
I went on to encourage Laura ~ rather than doing some sort of mental gymnastics to convince ourselves that we're not angry ~ we're really quite happy ~ let's USE the energy and focus that anger provides to do something about the situation which is causing the anger and unhappiness.
"Let's get our blog started," I said ~ it's stuff like this that we need to be talking about.