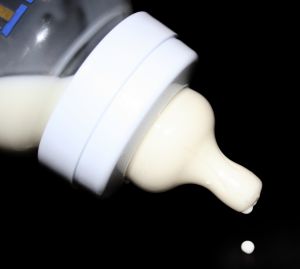 by Laura

When my 11th baby was born, he had feeding issues. He just wasn't getting the hang of nursing and I think my "plumbing" was getting a bit worn out.
After two weeks of trying and trying and him crying and crying, I took him to a Lactation Clinic an hour and a half away. The nurses and doctors were wonderful and remembered me from the last time I had a baby with these problems. They told me that I needed to use a breast pump every two hours all day and every 4 hours at night and keep track of how much milk I was making and feed every drop to my baby and supplement him with formula so he would gain weight.
Now, being a QF mom, I felt that bottles and formula equaled failure. I mean, my main purpose in life was to bear children and here I couldn't even feed them myself. I remember talking to another QF mom about her child that had similar difficulties nursing and she reluctantly admitted to me that she had resorted to the bottle. BUT…they hadn't used that nasty pre-made formula. They had done research and found a recipe that was better for their baby and fed the child that. Maybe she felt she needed to say that because not nursing your many babies was such a stigma in my circle. I was devastated I would have to supplement but one look at my sweet baby's spindly legs and I knew I had to do it.
I picked up some formula on the way home and then talked to Dale about the plan I had been given from the clinic. I had a rented breast pump with me and felt a bit overwhelmed with the idea of caring for the 10 kids living at home, pumping every two hours and taking care of the new baby.
I told Dale I would need his help at night because not only did I have to pump but I had to make sure that the baby got a certain amount of food each time I pumped, either from my milk or supplemental formula. He would have to get up every 4 hours to help out so I could be all done in 45 minutes or so. Otherwise, it would take me an hour and a half to do it alone.
He looked at me incredulously and said, "When am I supposed to sleep? I have to go to work every day. You can take a nap."
I was speechless.
I called to my older daughters and spoke with them privately. I told them the situation with their little brother and before I could ask for help, they offered to take turns sleeping nearby so that I could wake them when I needed them. So for a few weeks, I woke one of my older daughters, aged 11 to 18, in the middle of the night to help me. While I was pumping away, they fed their newborn brother not 10 feet away from me. It was a bit humbling to be doing that as I never could figure out how to pump discreetly. They would wait patiently for me to finish, sometimes falling asleep sitting up trying to burp the baby over their lap.
As soon as I was done with the pump, I would take over and let them go back to bed. Another half hour or so later, I would get the baby settled back to sleep and then I would drop exhausted into my bed, alone, only to start the whole cycle again maybe 3 hours later. All the while, Dale slept peacefully on the couch, his chosen place to rest every night.

Discuss!
Laura's Story:
Part 1 | Part 2 | Part 3 | Part 4 | Part 5 | Part 6 | Part 7 | Part 8 | Part 9 | Part 10 | Part 11 | Part 12 | Part 13
More from Laura:
………………………………………………………………………………………
NLQ Recommends …
'Quivering Daughters' by Hillary McFarland
'Quiverfull: Inside the Christian Patriarchy Movement' by Kathryn Joyce