Here's an article which I wrote shortly after a QF-ing friend had twins (I was so jealous) ~ this was published in Above Rubies and SALT magazines. I've added my comments at the end of the article …
THEY SHALL NOT BE ASHAMED
by vyckie bennett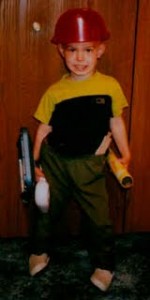 It sure seems to me that a high percentage of Quiver-minded families are blessed with twins (and triplets).
Of course, the mere fact that we're having more pregnancies and many QF mothers are older (two of the "risk factors" for multiples) can partially account for this phenomenon – but I think there's more to the story.
Could it be that God has a fantastic work in store and He's placing His arrows in the quivers of His sharpest marksmen? Mighty men who are willing to take God at His word and will sharpen these arrows and aim them straight for the Gates of Hades?
My son, 5-year-old Andrew, loves everything to do with soldiers, battles, courage, etc., and is fond of the children's jingle "I'm in the Lord's Army." After doing a study with Andrew on the Whole Armor of God (Ephesians 6:10-18), we concluded that his favorite song is much too defeatist and wimpy:
I may never march in the infantry, ride in the cavalry, shoot the artillery. I may never fly over the enemy, but I'm in the Lord's army. Yes Sir!
I may never … I may never … humbug! Dressed for battle with his helmet of salvation, breastplate of righteousness, belt of truth, sandals of the gospel of peace, protected by his shield of faith, and wielding his sword of the Spirit which is the Word of God, Andrew is ready for action! Let's do damage to the Kingdom of Darkness!
So … we've "revised" Andrew's favorite song to more accurately convey the truth of Psalm 127:5: Happy is the man that hath his quiver full of them: they shall not be ashamed, but they shall speak with the enemies in the gate.
(to the slightly altered tune of "I'm in the Lord's Army")
I'm in the Lord's Army – Yes Sir!
Don't you mess with me – No Way!
I am gonna stomp on the enemy –
Faith is the victory!
We will make the Devil flee.
I am gonna shoot that "Old Liar"
Flaming arrows set his pants on fire!
Cause I'm in the Lord's Army – for the Kingdom!
~~~~~~~~~~~~~~~~~~~~~~~~~~~~~~~~~
Interesting, huh? I mean, this is so typical of Quiverfull thinking ~ raising arrows for the Kingdom! I had coupled the QF message with some Dominionist teaching which I'd picked up from American Vision ~ put the two ideas together to form a Battle Plan for Victory ~ have lots of children and train them to be mighty warriors for God. Scary, now that I really think about it ~ scarier still when I consider that those who buy the Quiverfull message are absolutely convinced that God is on their side in the "culture war."