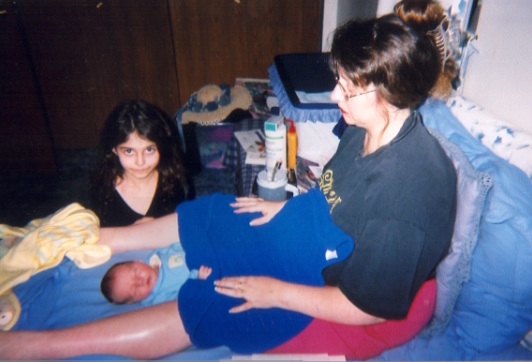 Me ~ Feb. 2007. Too exhausted to get out of bed ~ still, the work had to be done …
There's quite a discussion about feminism going on over on the NLQ forums ~ and it's got me thinking about another no-win situation for Quiverfull moms.
As a faithful Proverbs 31 woman of God, I was very concerned about my reputation ~ not for the sake of what people thought about *me,* of course ~ because, you know ~ I was very careful not to seek the "approval of men rather than God." No ~ my reputation was important only because I cared about my witness ~ I did not want the Word of God "blasphemed" on account of my unsubmissive attitude towards my husband, which would be, of course ~ evidence of a rebellious spirit towards the Lord.
As much as I feared being known as a haughty, manipulative, domineering, deceived and deceiving JEZEBEL ~ I was absolutely mortified at the very notion that I might be perceived as an angry, independent, man-hating, self-promoting FEMINIST.
Being a woman, and mother of five girls, I could understand and sympathize with the feminist perspective ~ after all, we are intelligent, capable females with our own individual thoughts, feelings, desires and aspirations. However, as a Christian woman seeking to serve Jesus Christ and bring honor and glory to Him in all areas ~ including my thought life ~ I accepted the truth that I was not my own, I'd been bought with a price ~ and my daughters and I, as female Christ-followers had a special role to play in the daily drama of family living which is intended to reflect eternal truths about the Godhead and the way in which the Lord works to accomplish His redemptive plan in a fallen world.
So ~ I was pleased to present myself as FEMININE ~ "girly" with my long hair and dresses, "modest" in my chaste conversation, meek and quiet spirit, and subjection to my husband, "female" in the way I embraced the natural functions of my "WOMBmanly" body ~ willingly submitting my reproductive system to the Lord's service, nourishing at my breasts the children with whom He so graciously blessed me ~ thankful for the incredible privilege of nurturing and bonding with my babies in a way that my poor, MALE, husband could never fully experience or appreciate.
"The term 'feminist,'" I argued in one article which I wrote for An Encouraging Word, "is misleading because the women's lib movement is not so much about elevating the status of females as it is about denying the very essence of what it means to be feminine ~ that is to have a womb."
I was NOT a feminist ~ and I held an air of contempt for the "liberated" women who, I was convinced, believe they can have it all ~ career, family, personal autonomy ~ "I am woman!" Bah. No way can a woman defy the biblical limitations placed upon her by a loving God whose perfect will was for her protection and provision ~ she cannot make her own rules without suffering tremendous grief when her feminist ideal runs up against the reality of the created order which the Lord, in His infinite wisdom, has established for her own good.

I felt sorry for those poor women who had been totally duped by Satan into running themselves ragged in a man's world ~ handing their children over to minimum wage-earning caretakers who couldn't possibly love them the way mothers do (or would, if they hadn't already hardened their heart against their children in order to make the leaving of them less painful) ~ those women who, by their own willful pride, missed out on the special treatment which men were eager to bestow on "ladies" ~ little favors like opening the doors and carrying in the groceries.
After a long, demanding day at the office, these hoodwinked, pitiable women were much too exhausted to prepare nutritious meals for their families ~ so it's a quick run through McD's and then home to play "catch up" on everything that didn't get done around the home in their absence. These women, I imagined, were spread way too thin to really enjoy a quality relationship with their children ~ and, of course, they'd be too worn out by the end of the day to pay their husbands the sort of attention which men desire and even NEED.
So ~ for all their hard work, feminist women in the end wind up lonely and estranged ~ they value independence and what they get is an independent family that doesn't need them ~ they want it all, they end up with nothing.
What a sad, hopeless trap. … so glad the Lord rescued me from such an exhausting, preposterous, … empty lifestyle.
It blows my mind to realize it now, but at the same time that I rejected the godless feminist idea that I can have it all (meaning my own career outside the home), I fully embraced the God-inspired vision of the Proverbs 31 wife ~ a woman who, literally does it all ~ rising while it is yet dark, attending to the ways of her household and home enterprise, feeding and clothing her many children ~ never resting as "her lamp goes not out at night."
I recognized, of course ~ that in my own strength I was nothing ~ the very best I could do was like "filthy rags" ~ so I could not boast in my abilities and accomplishments ~ only by His grace was I able to do anything. Oh, but how great was that grace! I believed that He would be faithful to empower me to live the super-busy, demanding life of a godly wife and "mother of many" to which He had called me.
"May the God of peace, who through the blood of the eternal covenant brought back from the dead our Lord Jesus, that great Shepherd of the sheep, equip you with everything good for doing his will, and may he work in us what is pleasing to him, through Jesus Christ, to whom be glory for ever and ever. Amen" (Hebrews 13:20-21).
So, in accordance with His Word, having His divine promises of the Holy Spirit to guide me and the power of Christ to strengthen me, I had way more babies than I ever imagined myself capable of producing. The life-threatening pregnancies and could've-killed-me deliveries kept me in a state of physical exhaustion and weakness with no hope of relief in sight. More than once, I should have died ~ but I didn't. After several such episodes, I began to feel invincible ~ so long as He willed that I should live, I would live.
Add to the physical demands of producing a quiver full of children, I also homeschooled them, ran a home-based business, attended to the special needs of the three children with the genetic bone condition …
Many, many women ~ from friends and family to complete strangers in the check-out line at Wal-Mart ~ would watch me with all my little "blessings" and exclaim, "I really can't imagine how you get it all done!"
Well ~ the truth is, I didn't get it all done. I had to rely heavily on my older daughters to help with the daily household tasks ~ and even then, there just weren't enough helpers to keep up with everything ~ so a lot of important things (such as educating the younger children) simply did not get done.
Despite the fact that I, personally, never managed to do it all ~ I believed that, as a Christian woman who trusted and relied on God for His strength and power, I ought to be able to do it all. And when I inevitably failed to live up to the Proverbs 31 ideal, it never occured to me that God had not come through for me and my family ~ instead, the failure was mine … and I felt guilty.
If only …
If only I'd prayed more… If only I was more organized … if we could just get on a better schedule … If I had time to prepare more healthful meals so I would have more energy …
I read in a popular home school magazine about a mother who, out of necessity, became an "early, early riser" ~ waking up at 2 a.m. in order to do the tasks which she never seemed to get done when all her children (6 under age 9 plus newborn twins) were awake making demands on her time and attention. So, I disciplined myself to go to bed with the children (sometimes before them) and set my alarm for 4 a.m. (hey ~ I may have been desperate at that point, but I was not yet completely insane so four in the morning would have to be good enough) ~ rising "while it is yet dark" ~ wow, that made me feel especially righteous.
Even so, I never did get "caught up" on all that needed doing.
It would have been "less than God's best" if I'd have sought employment outside the home ~ but we still needed money to feed and clothe our larger-than-average family ~ so I ran a family newspaper from our home. Unlike the feminist woman who wouldn't be expected to cook after working all day, when my "work day" was over (it never really was), I couldn't hit the drive-thru ~ because, you know ~ a wife of noble character "provides food for her family." She provides food ~ not McDonalds.
I remember sitting through a homeschool conference workshop in which the speaker explained that, yes ~ the Proverbs 31 woman lived in a very different culture in which she had servants (slaves really) to perform much of the household and child care duties. "BUT," she was not letting us modern moms off the hook, "we have servants too! How many of you own a washing machine to do the laundry for you? How about a crock pot to cook for you?" I bought her crock-pot recipe book and went home inspired to put my slow-cooker to work "slaving" for me all day in the kitchen and freeing me up to spend more time on the important tasks of raising my ever-growing brood of children.
I did not pawn off on the public school the responsibility for the training and education of my children ~ I took care of them and taught them myself. And since we were together all day, every day ~ I should have enjoyed the quality of relationships which I imagined my feminist friend was missing out on with her children since she was off at work all day. Only I was way too preoccupied with dealing with Warren, keeping the business going ~ and just plain too tired, to pay much attention to my children at all.
No problem. I was encouraged on the MOMYS Digest not to worry that my children's emotional and social needs were being neglected because, while there certainly is not enough "Mommy" to go around ~ with so many siblings (built-in playmates and companions), there was plenty of love to go around. What a lovely idea ~ brothers and sisters as best friends ~ teaching, supporting, encouraging and loving one another. I focused on that vision and tried not to get too worried about the fact that *my children* were contentious and mean to each other ~ they'd learned from their parents' relationship that it's all about power and control ~ and darned if any of them wanted to be the low man on the totem pole.
Whatever I might have done to make my job a little easier would be totally out of the question because a woman whose worth is far above rubies would never put her children in spiritual danger by allowing a television in her home ~ let alone use said TV as a "babysitter" when she needed a break from her "precious lambs" to get a few things done. Sending them outside to play with the neighborhood kids was equally unthinkable ~ who could say what sort of ungodly ideas they might pick up if they formed friendships with public schooled kids? Simple logistics dictated that I would never go anywhere alone ~ we certainly couldn't afford to take all the children on a vacation ~ actually, for most of my "quivering" years, I did not even take a bath by myself. How was I supposed to regain my health which might enable me to keep up with things when I never rested?
When all else failed, I was told ~ the Lord knows our limitations. So long as my heart was right with God, I was humbly submitted to His will, and I was faithful to do my part according to my abilities ~ He would come through for our family. I could count on the Lord to "fill in the gaps" ~ not only in my children's education, but in their spiritual and social lives as well.
It took a whole lot of mental finagling ~ but I had to make it work and so I managed to convince myself that it did work ~ and when it clearly didn't work ~ well then, it wasn't the end of the story because, ultimately ~ God works all things for good … right?
The worst part of this no-win situation is that I believed it could be done ~ I wasn't able to do it ~ but I'd have defended with my last breath the idea that it could be done. Whatever should be done, could be done. With God's help, of course.
Nobody could have convinced me that the quiverfull lifestyle is unliveable ~ that the life of martyrdom is unsustainable. No ~ my God was bigger than that. With God ALL THINGS are possible. I can do ALL THINGS through Christ who gives me strength. If it appeared that QF/P was not working out for our family ~ I'd just have to try harder, do more … examine myself to uncover what hidden sin or misinterpretation of God's word was preventing me from experiencing the full extent of Christ's power which was available to me as a dedicated child of God.
Of course, the godless feminist woman cannot have it all ~ but there's no reason why, I ~ a woman who feared the Lord … a woman clothed in strength and dignity ~ there was absolutely no reason whatsoever why I could not do it all.